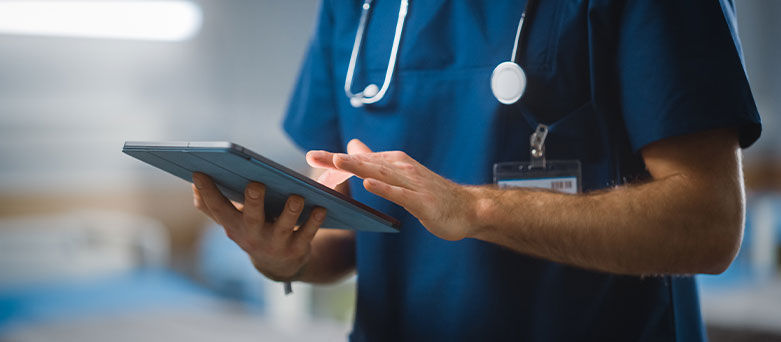 Acute Doctor Job Description
Doctors working in acute internal medicine play a vital role diagnosing and treating patients with severe and life-threatening conditions. Many of your patients will have rapidly onsetting symptoms, meaning that you'll need to provide sometimes urgent treatment to your patients for up to 72 hours after their admittance to hospital.
At Medacs, we help place Acute Doctors at Betsi Cadwaladr University Health Board, the largest health organisation in North Wales. And with a range of locum Acute Doctor roles available, including for middle-grade doctors, you could find your next medical role with Medacs.
What does an Acute Doctor do?
Acute Doctors oversee the diagnosis, treatment and ongoing management of patients who have developed severe conditions and are at risk of rapidly worsening. You'll be facing a wide range of different conditions every day, so you will need detailed knowledge of emergency treatments as well as specialist knowledge and skills.
You'll be working in the very busy acute medical unit at a hospital, where you could be treating patients with a wide range of different conditions and symptoms. You could be working with patients who have suffered a stroke, or who have worsening chronic diseases and require immediate care.
As an Acute Doctor, you'll frequently need to:
perform lumbar punctures
carry out paracentesis and pleural aspiration
quickly diagnose a range of acute illnesses
keep family members updated on patient conditions
refer patients to other specialists when needed
You'll also need to work closely with:
consultants
emergency department staff
critical care staff
other specialists
What qualifications do you need to work as an Acute Doctor with Medacs?
To work as an Acute Doctor, you will need:
a medical degree
to have completed a two-year foundation programme
specialty acute medicine training
In addition to your formal qualifications, you will also need a range of soft skills to cope with this high-pressure role. Some useful skills are:
excellent communication skills
great organisational skills and the ability to work closely with a range of different colleagues
emotional resilience
calmness under pressure
capacity to lead multidisciplinary teams
problem-solving skills
time and resource management skills
Find your next Acute Doctor role
Medacs can help you find your next Acute Doctor role. As a preferred supplier of medical professionals to the NHS, including the Betsi Cadwaladr University Health Board, you can apply for a range of locum Acute Doctor roles before anyone else. So whether you're looking to pick up extra shifts or develop your career, we can help. Apply for your next Acute Doctor role with Medacs today.