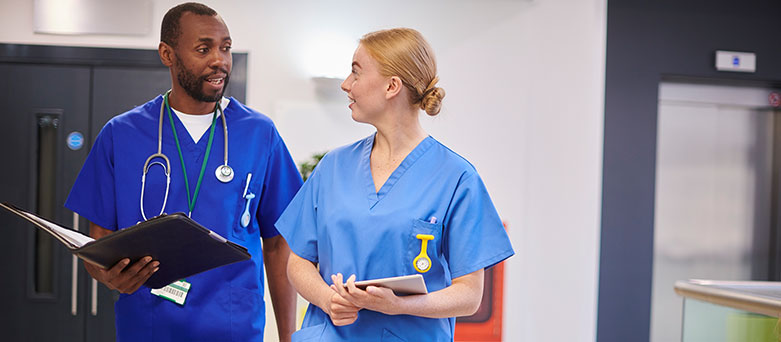 Working at Swansea Bay University Health Board
As a preferred supplier of medical professionals to the NHS, Medacs candidates get first access to a wide range of medical roles across many health boards and locations, including Swansea Bay University Health Board.
What job opportunities are there at Swansea Bay University Health Board?
Operating a wide range of medical facilities, the Swansea Bay University Health Board relies on its thousands of skilled and well-qualified professionals to ensure people are getting the right level of care.
There is a wide range of short-term and locum roles to be found across the Health Board, whether you are junior or senior in experience, including:
With such a wide array of roles on offer, you can find jobs that help you grow your experience or can help you pick up extra shifts. And, if you're looking to develop new skills in fields that you aren't familiar with, you can find roles in new wards and settings. You have complete flexibility in which roles you apply for – so you're sure to find a job that suits your needs.
This Health Board operates a range of primary medical care facilities across South Wales and is responsible for providing important and sometimes urgent care to more than 390,000 people across the Neath Port Talbot and Swansea areas. It employs more than 12,500 skilled medical professionals across its key sites, meaning there are many employment opportunities at the Health Board.
Browse latest jobs at Swansea Bay University Health Board
The Health Board operates three major hospitals: Morriston, where The Welsh Centre for Burns and Plastic Surgery provides important care for patients all over South Wales and the South-West of England, Singleton, and Neath Port Talbot. The Health Board is also responsible for running 49 GP surgeries, 72 dental practices and orthodontists, 31 optometry practices and 92 community pharmacies.
Is Swansea Bay University Health Board a good fit for you?
Whatever your background and skills, Swansea Bay University Health Board puts people, communities and values at the heart of what it does.
The Health Board is committed to treating everyone equally, with dignity and respect. It has set its own equality objectives and reports against its progress in its strategic equality plan, helping it continually learn and develop its equality practices.
As well as being a welcoming and inclusive place to work, the Health Board offers a range of perks and advantages to its staff. Whilst working at its hospitals, professionals enjoy free hospital car parking, as well as onsite access to shopping facilities, including WHSmith, Costa Coffee and Subway.
The Health Board is also situated only 19 minutes away from Swansea city centre and only an hour's drive from some of the most popular beaches in West Wales.
Client Name: Swansea Bay University Health Board Role: Locum Consultant Radiologists. Various sub-specialities considered: General with extensive CT & MR reporting and US skills. Vascular...