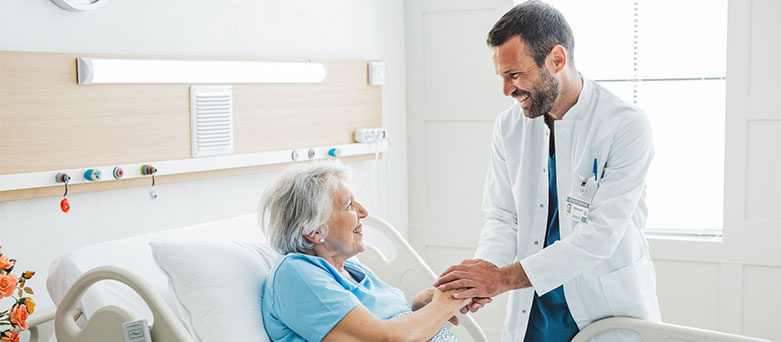 Working as a Care of the Elderly (COTE) Consultant
Care of the Elderly (COTE) consultants work closely with elderly patients and their families to ensure they are receiving the right treatments for a wide range of different illnesses. Not only will you be co-creating treatment plans with your patients, as a consultant, you'll be working with some of the most cutting-edge technology to research ways of caring for elderly people.
At Medacs, we help place experienced COTE consultants at Swansea Bay University Health Board (SBUHB). There is a wide range of locum shifts open to Medacs professionals, and as a preferred supplier of staff to the NHS, you'll get first sight of exciting roles at SBUHB.
What does a COTE consultant do?
As a COTE consultant, you'll be working with elderly and sometimes frail patients, and will be responsible for providing treatments and remedies for a number of different conditions. As well as devising long-term treatment plans in coordination with other medical professionals, you'll be giving patients and their families regular updates, so being able to communicate empathetically is important.
You will be leading a multidisciplinary team of specialists, working together to provide effective treatments to your patients in their homes, and enabling others who have been admitted to hospital to return home when possible.
You will also:
use advanced and specialist equipment to diagnose and investigate patient conditions
provide constant monitoring of patients
create shared treatment plans with patients and their families
coordinate care with other healthcare providers
recognise, review and report changing patient conditions
provide palliative and end-of-life care.
You will be working closely with a tight-knit team, as well as other medical professionals, including:
A&E staff
doctors
nurses.
What qualifications and skills do you need for COTE consultant roles with Medacs?
To apply for COTE consultant roles, you will need:
a degree in medicine recognised by the General Medical Council (GMC)
six months' NHS experience within the past two years
specialty training in geriatric medicine or COTE medicine
Right to Work in the UK
to pass an enhanced background check
CCT (desirable not essential).
As well as these qualifications, you will need some important soft skills to help you excel as a COTE consultant. These skills include:
patience and compassion
an empathetic way with people and good 'bedside' manner
the ability to remain calm in stressful situations
a flexible attitude
excellent attention to detail
leadership and decision making
a desire for continuous learning and development.
Find your next COTE consultant role
Medacs works with Swansea Bay University Health Board to place skilled medical professionals in exciting roles across the Health Board. Register with Medacs today and not only will you get first sight of roles across the NHS but we will also support you with continuous personal development (CPD) courses, pay package negotiation and career support.
Client Name: Swansea Bay University Health Board Role: Locum Consultant Radiologists. Various sub-specialities considered: General with extensive CT & MR reporting and US skills. Vascular...