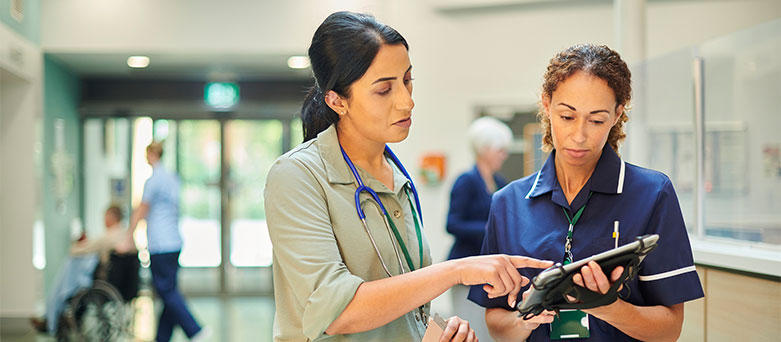 Working as a General Medicine Doctor
General medicine doctors play a crucial role in quickly diagnosing and recommending treatments to inpatients. Diagnoses often need to happen within 72 hours of arrival, meaning general medicine doctors need to work quickly with their patients to understand their conditions and direct them towards specialists and departments that offer the right treatments.
Medacs works with Swansea Bay University Health Board to place skilled medical professionals in general medicine doctor jobs, as well as many other jobs. Register with Medacs today and get first sight of many locum general medicine doctor roles across the NHS.
What does a general medicine doctor do?
General medicine doctors play one of the most important roles within a hospital. As new patients are admitted, they work closely with new arrivals and medical staff to quickly understand the conditions of individuals, to make an accurate diagnosis and recommend appropriate treatments within a short time frame.
You will be using your specialist problem-solving skills and wide medical knowledge to work with inpatients across a range of medical settings and departments. Any of your newly arriving patients could be suffering from life-threatening symptoms or rapidly worsening conditions, so you will need to be confident working under pressure. Whilst a challenging role, being a general medicine doctor is an extremely rewarding job too, and you'll take real satisfaction in the knowledge that your timely advice and actions have helped people recover from challenging illnesses quickly.
Some of your key responsibilities will be:
working with other medical staff to understand inpatients' conditions and symptoms
carrying out accurate diagnoses
closely monitoring and evaluating changing patient conditions
recommending treatments and transferring patients to specific departments for further care
arranging after-care sessions to ensure patients continue to recover
communicating empathetically and clearly with patients and families.
To help diagnose and treat patient conditions, you will work closely with many other medical professionals, including:
A&E staff
hospital receptionists
medical specialists
nurses.
What qualifications and skills do you need for general medicine doctor jobs with Medacs?
To work as a general medicine doctor, you will need relevant experience. Key criteria include:
a General Medical Council (GMC) recognised medicine degree
a two-year foundation programme
six months' NHS experience within the last three years
Right to Work in the UK
passing an enhanced background check.
Working as a general medicine doctor is very rewarding, but it also comes with working in a pressured environment. Some soft skills that you will need in this role include:
confidence working under pressure
excellent problem-solving skills
good teamwork and coordination skills
the ability to multi-task
good analytical skills
having a caring, compassionate manner.
Find your next general medicine doctor role
Medacs helps Swansea Bay University Health Board (SBUHB) source skilled general medicine doctors, as well as candidates for many other medical jobs. Register with Medacs today and you can apply for these roles at SBUHB and across the NHS before anyone else.
With Medacs, you'll also benefit from constant career support, continuous personal development (CPD) programmes, help with revalidation and assistance when negotiating the right pay package for you.
Client Name: Swansea Bay University Health Board Role: Locum Consultant Radiologists. Various sub-specialities considered: General with extensive CT & MR reporting and US skills. Vascular...