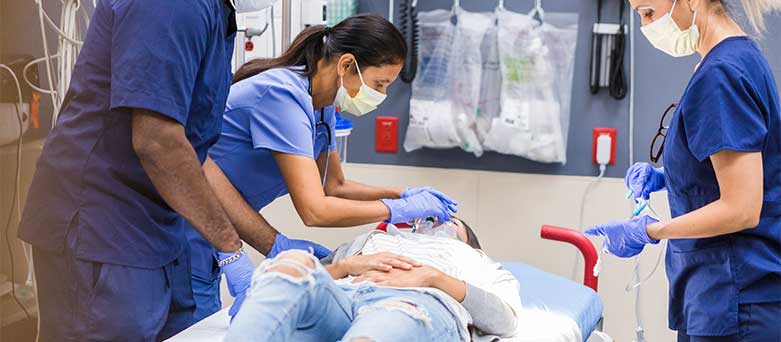 A&E doctors play an important role in helping newly arrived patients get the diagnoses and treatments they urgently need. In pressured environments, you'll be using your specialist skills to identify inpatient conditions, recommend treatments and medicines, and refer patients to specialists to ensure they get the right treatments.
Medacs works with Swansea Bay University Health Board to place skilled A&E doctors into exciting roles. Whether you are an experienced A&E doctor or looking for a junior job, there is a wide range of locum A&E roles open to you.
What does an A&E doctor do?
As an A&E doctor, you'll be at the heart of the busy A&E department, ensuring people receive important emergency care and administering treatments. You'll be using your specialist skills daily to quickly identify and diagnose inpatient illnesses, with injuries ranging from acute illnesses to traumatic injuries, and in some cases, life-threatening conditions that require urgent care. And, once your patients have been discharged from care, you may also be following up with them to ensure they make a full recovery.
You will typically be working in an A&E department which is one of the busiest wings of a hospital. This is a fast-moving and sometimes high-pressure environment, so you'll need to be comfortable working under pressure, a good team player and coordinator, and will need to be comfortable keeping a calm head whilst carrying out accurate symptom diagnoses.
Some of your other key responsibilities could include:
administering a wide range of treatments, including pain relief, defibrillation and blood tests
arranging referrals to other specialist departments
making observations, such as pulse, blood pressure and oxygen saturation
giving prescriptions, applying dressing or topical treatments
writing patient notes
taking responsibility for the treatment of patients in your care, and seeking out specialist advice and guidance to maximise their wellbeing and recovery.
Working in this busy department, you will need to coordinate closely with a range of other medical professionals, including:
paediatricians
consultants
A&E reception staff
emergency response teams
doctors.
What qualifications and experience do you need for A&E doctor roles with Medacs?
To work as an A&E doctor, you will need:
a degree in medicine recognised by the General Medical Council (GMC)
a two-year foundation programme of general training
six months' experience in the NHS over the previous two-year period
Right to Work in the UK
to pass an enhanced background check.
As you'll be working in a fast-moving and challenging environment, you will also need some important soft skills, such as:
quick thinking
the ability to multi-task
good communication
resilience, stamina and the ability to work long shifts
confidence diagnosing and administering treatments
decisiveness and decision-making
a genuine passion for providing great medical care.
Find your next A&E doctor role
As a preferred supplier of medical professionals to Swansea Bay University Health Board, you can apply for a wide range of exciting and challenging roles before anyone else. Find your next A&E doctor role with Medacs, and we'll help you get the right pay package, support you with revalidation, and will provide you with ongoing training and career support.
Client Name: Swansea Bay University Health Board Role: Locum Consultant Radiologists. Various sub-specialities considered: General with extensive CT & MR reporting and US skills. Vascular...