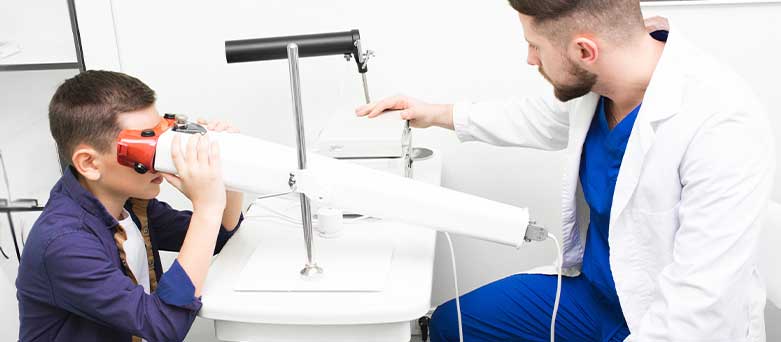 Orthoptist Job Description
Orthoptists are responsible for helping to diagnose and treat disorders that affect eye movements and the way the eyes and brain communicate. Your work will greatly improve the quality of patients' lives.
You can find your next orthoptist job right here at Medacs. We have a wide range of roles to suit everyone.
Being an orthoptist
An orthoptist job is varied and interesting, as you'll work with a range of patients who are experiencing eye movement problems. You could be responsible for:
Identifying serious neurological issues like MS and Parkinson's disease
Assessing brain injuries that have affected the eyes
Assessing diabetic retinopathy
Helping children with problems like squints (strabismus) or amblyopia (lazy eyes)
You'll work with other eye specialists, like ophthalmologists and optometrists, and healthcare professionals such as neurologists to offer your patients the best possible treatments. You may prescribe treatments, exercises and medicines, or refer patients to your colleagues if further investigations or surgery may be needed.
Orthoptists can work in a variety of settings, including:
Hospitals
Community clinics
Health centres
Specialist children's centres
Schools
Typically, orthoptists work standard office hours (8–4 or 9–5) as most of their patients are seen on a routine basis. You may have to work shifts and can choose to take on additional roles to cover other members of staff.
Qualifications for orthoptist jobs
You'll need to graduate from an approved orthoptics degree and register with the Health and Care Professions Council (HCPC) before beginning your career in this field. To qualify, you'll need to have achieved five GCSEs above a grade C/4 and at least two A levels, including a science.
If you've already completed an undergraduate degree in a relevant subject (i.e. relating to sciences or medicine) you can complete a master's in orthoptics instead. Both undergraduate and master's courses will involve lots of time spent with patients gaining a practical knowledge of what orthoptics jobs look like day to day.
Key skills for orthoptist jobs
You'll need more than just qualifications to thrive in any orthoptics job. There are a number of skills and traits that will help you, including:
Ability to work with both adults and children

Great communication skills

Ability to explain potentially complex medical terminology in a way patients understand

Strong organisational skills

Excellent attention to detail

Great decision-making

Hand–eye coordination
Where can a career as an orthoptist take you?
Once you've qualified and completed your preceptorship (working under a more experienced orthoptist) you can start working towards moving into a management position in your field. This will involve overseeing a department of other orthoptists and assisting more junior colleagues. You can also choose to specialise in a certain area of orthoptics and play a role in discovering new treatments and approaches. Common areas of 'advanced clinical practice' include:
Cataracts

Glaucoma

Low vision and nystagmus

Macular degeneration

Medical retina

Neuro-ophthalmology

Paediatric ophthalmology

Strabismus management (pre/post-operative and assistant in theatre)

Strokes

Uveitis
Alternatively, you could opt for a research-based role, working behind the scenes to advance this field of medicine. Another option is to move into education, which will see you teach the next generation everything you know about orthoptics.
Joining the British and Irish Orthoptic Society (BIOS) is a great choice no matter where your career takes you, as it will help you keep your knowledge up to date and skills as sharp as possible.
What's next?
Looking for a role that fits your lifestyle, commitments and career goals? Browse a range of jobs and apply right here at Medacs. We receive more than 1,000 new roles every day across all NHS frameworks and get first sight of agency-allocated shifts at more than 150 NHS Trusts. Book work on a long- or short-term basis or find a permanent role that allows you to do what you love.
It's easy to take your career to the next level with Medacs. We offer an extensive range of free CPD training courses, allowing you to further your knowledge any time you'd like and stay registered with the HCPC. We can also help you access free and discounted appraisals any time you need, saving you both time and money. Our dedicated team can help you with everything from pay negotiations to advice about the next step in your career.