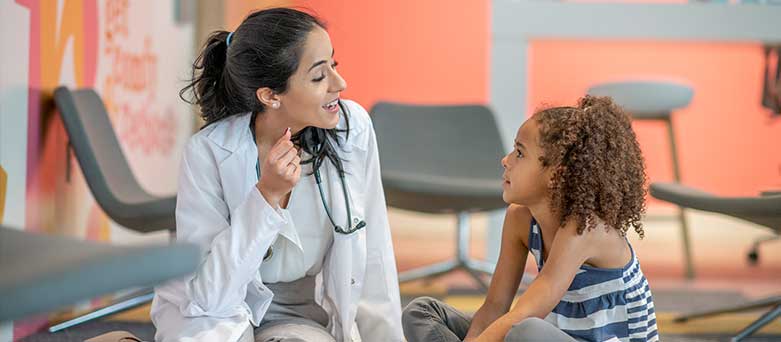 Speech and Language Therapist Job Description
Speech and language therapists provide some of the most life-changing support and care the medical profession offers. You'll be helping your patients overcome and adapt to often severe challenges to their ability to speak and hear, quite literally changing people's lives forever.
At Medacs, there's a range of permanent and temporary speech and language therapist jobs, so you're sure to find an opportunity to suit your needs.
Being a speech and language therapist
Speech and language therapy is a rich and varied area of medical specialty to work in, with many of your patients needing different kinds of therapy daily. You'll be helping children to overcome a wide range of moderate and severe challenges, whilst also helping many adults with their own communication problems. For example, you may find yourself commonly working with patients who have:
Learning difficulties
Stammers
Language delays
Hearing impairments
Cleft lips and palates
Selective mutism
Mental health conditions
Long-term effects of Parkinson's and dementia, among others
Physical disabilities
As speech and language therapists will need to work generally across a wide range of different patients with contrasting needs, you'll need to have something of a generalist mindset to put together the right solutions to your patients' requirements.
Because a lot of your work will be flexible, it's also possible for you to work in a variety of different settings. Whilst NHS hospitals and general practitioner (GP) practices are commonplace for therapists, you could also find yourself working in community trusts and other practicing environments. With Medacs, you can find a wide range of speech and language therapist jobs to suit your needs, whether it's working in only one practice or across several.
Qualifications for speech and language therapist jobs
To begin applying for speech and language therapy jobs, you'll first need undergraduate training in a Health & Care Professions Council (HCPC)-approved degree, usually in speech and language therapy. There is also an apprenticeship route which will help your development, whilst some roles might insist on candidates having a master's or postgraduate degree.
Key skills for speech and language therapist jobs
There are some essential skills for therapists to have. As you'll be working with people who have sensitive conditions and require empathetic support throughout their care, you'll first and foremost need to be a sympathetic and understanding communicator. Besides this, you should also have:
Patience and a commitment to long-term progress and growth
Creativity and efficient problem-solving skills
Encyclopaedic knowledge and practical experience of therapy requirements
An empathetic approach to recommending therapy
Excellent, clear and efficient communication
Confidence under pressure
Ability to work in a challenging environment
Where can a career in speech therapy take you?
As this medical specialty is such a rich and varied field, there is a lot of room for future development and growth. Once you have first graduated as a qualified therapist, you'll spend the first year under supervision, with your future development being dependent on continuous progression.
The HCPC offers lots of dedicated seminars and courses that will help broaden your development. So if you feel your interests are better suited to a specialism in specific conditions, you'll be able to focus your efforts in this sub-field. There is also the option of going into teaching and research, where you'll be balancing your practising with educational responsibilities.
Alternatively, you could also choose to prioritise a management role within a practice. As you progress your development, you may be able to become an advanced clinical practitioner and a speech and language therapy consultant, where you'll be taking responsibility for a wide range of different patients.
What's next?
When you search and apply for your next role with Medacs, you can be certain that you're finding your next job with a leading medical agency. With over 1,000 new roles posted daily, you're sure to find the ideal job with us. As a preferred supplier of locum staff to the NHS, you'll be able to apply for jobs before anyone else.
And it doesn't stop there. We'll help with your continuous development by offering development opportunities, so that you can keep your medical skills up to date. We will also support you on everything from negotiating the right pay package to working flexibly to accessing daily payrolls, depending on your trust. From vacancies to development to ongoing support, find the perfect therapy job for you with Medacs.
Browse and apply for latest speech and language therapy jobs