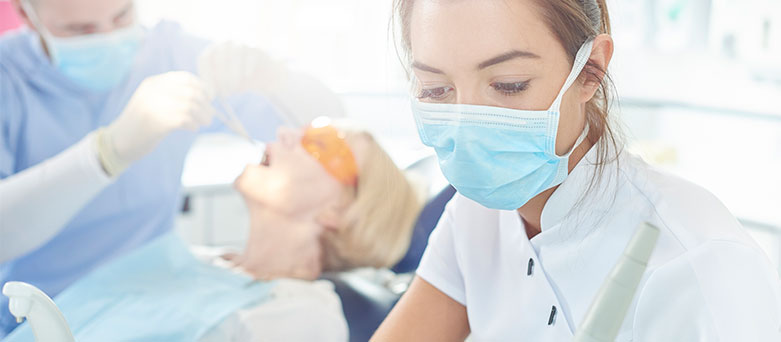 Dental Nurse Job Description
As a dental nurse, you'll help dental practitioners provide excellent care and ensure standards of hygiene and patient care recording remain consistently high.
You'll find lots of dental nurse job opportunities right here at Medacs. If you're looking for a job that can fit around your lifestyle and location requirements, you're in the right place.
Being a dental nurse
Dental nurses assist dentists and other dental practitioners before, during and after patient consultations and treatments. Key responsibilities include:
Making sure all equipment and machinery are thoroughly sterilised and is ready for use
Maintaining dental operating equipment
Keeping diligent notes in patient records during consultations and treatments
Making sure the right supplies and materials are available to dental practitioners
Assisting the dentist during procedures and quickly responding to requests
Helping administration and reception teams maintain patient administration
Typically, dental nurses work in community practices (either NHS or private) or travel with dentists to provide care in the community. You'll play a vital role in making patients feel comfortable and ensuring every examination or treatment goes as smoothly as possible from a logistics point of view.
Qualifications for dental nurse jobs
You won't need any specific qualifications to start working as a trainee dental nurse. However, you must complete a General Dental Council (GDC)-approved course in dental nursing to fully qualify, which can be done on a part- or full-time basis. You'll typically need a GCSE in Maths, English and Science grade 4/C or above to be accepted.
You could also opt to take a level 3 dental nurse apprenticeship or complete a degree-level course to qualify. Here are some of the most common routes to qualification:
Foundation Degree in Dental Nursing

Certificate of Higher Education in Dental Nursing

National Diploma in Dental Nursing (awarded by the National Examining Board for Dental Nurses)

QCF Level 3 Diploma in Dental Nursing

NVQ Level 3 in Dental Nursing
As a dental nurse, you will be required to complete 50 verifiable hours of continuing professional development (CPD) every five years. You'll need to document this and prove you've completed it, or you'll be taken off the GDC.
Key skills for dental nurse jobs
To succeed as a dental nurse, you'll need to possess a number of skills and qualities, including:
Tact and discretion when handling patient notes

Friendly nature to put anxious patients at ease

Ability to work as part of a team

Desire to learn more about dentistry

Ability to work with people from all walks of life

Ability to follow instructions accurately and quickly from the dentist you're working with
Where can a career as a dental nurse take you?
Dental nurses who are willing to take on further training can progress to a number of positions within dentistry, including:
Dental hygienist – Keeping teeth healthy with treatments like scales and polishes

Dental therapist – Completing simpler dental tasks, such as impressions, x-rays and straightforward extractions

Orthodontic therapist – Assisting orthodontists and providing some simple treatment (prescribed by the orthodontist themselves)
You could also opt to become a senior dental nurse, which will involve taking charge of the practice's team of nurses and helping them access extra training and education opportunities.
What's next for your career?
Start looking at and applying for dental nurse roles right here at Medacs. We receive more than 1,000 healthcare job opportunities every single day across the NHS and private sector, giving you loads of choice when it comes to your next career move. And if you'd like to work extra shifts that fit with your lifestyle, Medacs gets first sight of agency-allocated shifts at more than 150 NHS Trusts, with both short- and long-term bookings available.
Medacs offers a wide range of free verified CPD courses, which make it easy for you to complete your required hours. And if you need help with anything from pay negotiations to career advice, our experts are here to help. Start browsing our exciting opportunities today to find a dental nurse role that fits with your career goals and lifestyle or other commitments.