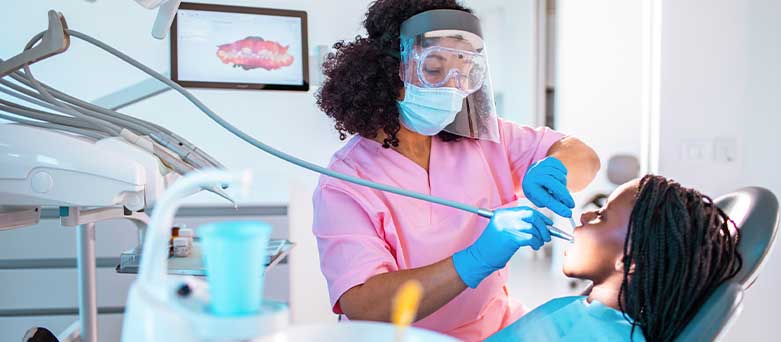 Dentists look after the health of people's teeth, gums and mouths.
Explore a range of dentist jobs with Medacs. You'll discover job opportunities all over the UK that fit with your lifestyle and career goals.
Being a dentist
The role of a dentist is varied and covers all aspects of dental care, depending on the setting you work in and any specialisms you choose to pursue. You may carry out check-ups, perform procedures such as fillings, extractions and root canals, or refer patients to other dental practitioners for further care. In hospital settings, dentists may work with patients experiencing more complex issues, such as impacted wisdom teeth.
Dentists don't just practise in the community. You can choose to practise in:
General dental practice

– typically working in a high-street or community clinic (either NHS or private)

Community dental care

– looking after vulnerable patients' dental health in their homes, mobile clinics or residential care facilities

Dental public health

– helping to improve the dental health of communities by ensuring they have access to care

Hospital dental care

– dealing with dental emergencies or complex procedures, or looking after the dental health of long-term hospital residents

Armed forces dentistry

– offering dental care to those within the armed forces, both at bases and on deployments
Qualifications for dentists
You'll need to complete a degree in dentistry before practising as a dentist. If you don't quite qualify for entry, you can take a one-year pre-dental course. Your undergraduate education will take at least five years to finish, and you'll also need to go through one to two years of supervised practice. Once you've finished, you'll need to register with the General Dental Council (GDC).
To access higher level roles such as consultants, you'll need to complete dental foundation training, dental core training and specialist training.
Key skills for dentist jobs
In addition to your qualifications, you'll need a number of skills and traits to succeed in the world of dentistry. These include:
Genuine interest in dental health, oral diseases and oral hygiene

Willingness to continue learning about new ways of treating and managing dental issues

Great communication skills

Ability to put patients at ease

Great manual dexterity and hand–eye coordination if you'd like to progress into surgery
Where can a career in dentistry take you?
Once you have qualified as a dentist and are registered with the GDC, you may choose to undertake further training and move into a field such as:
Oral and maxillofacial surgery

Paediatric dentistry

Restorative dentistry

Oral surgery

Orthodontics
You can also choose to take on more managerial responsibilities or move into education, helping to train the next generation of dental clinicians. There's also lots of scope to supplement NHS work with private treatments and services.
What's next for your career?
There are many dentist jobs that you can browse and apply for at Medacs. Every day, we receive over 1,000 new vacancies across all NHS frameworks and plenty of opportunities with private healthcare companies. All you need to do is tell us when, where and how often you'd like to work, and our dedicated team can find opportunities that are right for you.
If you'd like to explore locum dentist opportunities, you'll be assigned a dedicated member of staff who can help you negotiate pay and offer lots of advice and guidance. You may be able to access your income quicker through our daily payroll, meaning you get to access the money you've earned on a speedy, flexible basis.
To help you meet the CPD needs for dentists, you can access a wide range of free courses right here at Medacs. You can also access free and discounted appraisals through Medacs, reducing the hassle and costs of a potentially essential part of your job.