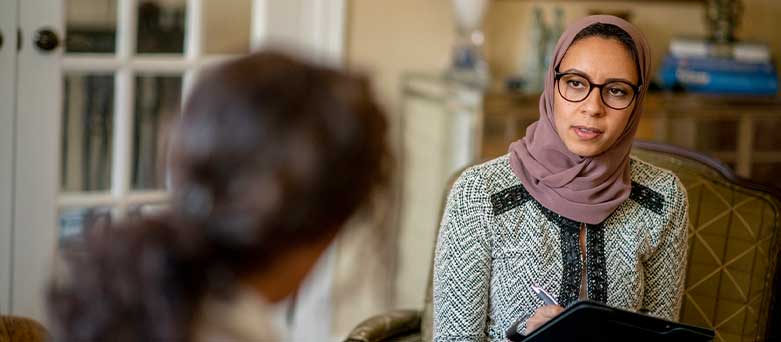 Psychiatrist Job Description
Mental illness is a serious health problem in many regions across the world. As a psychiatrist, you'll be helping to combat a range of disorders and giving people the support they need to improve their daily life. It is a rewarding career, and a flexible one that enables you to explore different specialisms and build your working hours around your life.
Medacs has both temporary and permanent psychiatrist jobs available. Whether you specialise in adult or child psychiatry, or want to explore working in the community, you can find suitable psychiatry jobs with us.
Being a psychiatrist
As a psychiatrist, you will support people with mental illness and help to manage long-term conditions. You may offer a treatment or prevention plan for a wide range of difficulties and disorders, including:
Depression
Anxiety
Dementia
Eating disorders
Sleep disorders
Post-traumatic stress disorder (PTSD)
Schizophrenia
Drug and alcohol abuse
Psychiatry is a medical profession. The varied role involves prescribing medicines, providing psychological treatment, administering procedures and helping people to live with their condition. You'll also assess patients to understand more about the root of their illness and to decide the best course of treatment. If you propose an ongoing treatment plan, you will regularly meet with patients to discuss progress.
You can practise psychiatry in lots of settings, and we have opportunities in a range of different positions. For example, you may work for the NHS or in the private sector. You could be employed in a hospital to provide immediate support for patients who are admitted, including to those who have suffered a traumatic injury. Some psychiatrists are employed in schools to support children and young adults. It is also possible to work at a university, in a prison or court, in nursing homes and hospices. Depending on the setting, you may work office hours or work on-call and do night and weekend shifts.
Psychiatrist salaries
Salaries for psychiatry jobs follow a similar payment structure to those of other medical doctor roles. Juniors doctor roles start at around £30,000 while those at specialty training level can earn upwards of £38,000.
The salary will increase as your career progresses. If you're at specialty level, you should earn between £40,000 and £80,000. When you reach consultant level, salaries are between £82,000 and £120,000.
Qualifications for psychiatry roles
To become a psychiatrist, you need a degree in medicine that is recognised by the General Medical Council (GMC). This allows you to become a junior doctor and to work towards your specialism in psychiatry.
If you're looking for consultant psychiatrist jobs, you'll need a Certificate of Completion of Training (CCT) and Fellowship of the Royal College of Psychiatrists (FRCP). You must also be registered on the GMC Specialist Register.
Alternatively, if you're applying for a role as a Specialty Doctor and Associate Specialist (SAS), you'll need to register with the GMC and have completed four years of post-graduate training with two years specialising in psychiatry.
Key skills for a psychiatrist job
As well as having your medical degree and experience, you will need a number of soft skills to excel as a psychiatrist or to become a senior team leader.
Emotional resilience to handle uncomfortable situations and discuss traumatic topics
The ability to stay calm under pressure
Excellent people and communication skills to help patients open up to you about personal difficulties
Analytics skills to properly assess patients
An aptitude for problem solving
Many psychiatrist jobs are senior positions, as part of which you will manage a team. For this part of the role, you should have the following skills:
The ability to motivate others, especially through stressful periods
Organisational skills to manage different people's workloads
Where can psychiatry take you?
One of the draws of psychiatry is that there are many different routes your career can take. You can specialise in a number of different fields, including:
Child and adolescent psychiatry
Perinatal psychiatry (supporting mothers and babies)
Adult psychiatry
Old age psychiatry
Addiction psychiatry
Forensic psychiatry (working with lawyers and courts)
Some psychiatry jobs will require that you complete postgraduate qualifications. For example, if you work in forensic psychiatry, you may need to carry out additional studies in law and/or criminology.
Throughout your career, you can continue learning as the field of psychiatry develops. You could take part in courses, contribute to peer review journals and attend conferences to help progress psychiatry.
What's next for your career?
View our current range of psychiatry jobs and apply for the role in your preferred area for which you think you would be a good fit. We work with every NHS framework, meaning we bring you a wide variety of jobs every day.
Finding your next psychiatrist job through Medacs also gives you peace of mind. We'll connect you to roles that suit your preferred working hours and give you a dedicated contact who can support you through the process and discuss pay on your behalf.
Throughout your role, we provide continued professional development support so that you can focus on your progression. We also have a specialist Revalidation team, which will guide you through this process.
Moving to the UK
At Medacs, we support psychiatry doctors from overseas find jobs in the UK and navigate the process of relocating. Our team has over 50 years' combined experience in helping doctors take roles in the UK. We can advise you on everything from passing language tests to obtaining a visa or sponsorship to getting your family settled here. For guidance, visit our Moving to the UK page.