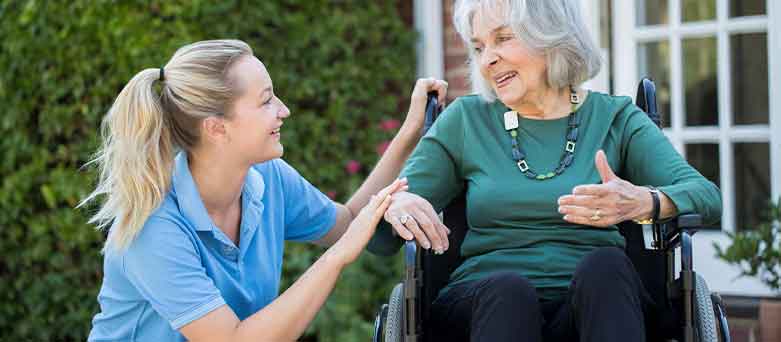 Care Worker Job Description
Care workers spend their days supporting some of the most vulnerable people in our society, including those with intellectual and physical disabilities, long-term health conditions, and the elderly.
Care workers help people retain independence and live a fulfilling life in their own homes, or to feel cared for and supported in a residential facility.
Medacs has a wide variety of care worker jobs available all across the UK. We can help you find a role that's ideal for you and your career aspirations.
Being a care worker
The role of a care worker is varied. No matter what setting you choose to work in, you'll be responsible for enriching your patients' lives and ensuring they maintain a good standard of living in spite of their health conditions or debilitating disabilities. A typical day will include helping your clients with personal tasks like washing, dressing and grooming. You could also take on tasks such as:
Helping patients prepare food
Assisting with shopping for essentials
Ensuring medication is ordered and being taken properly
Offering company and companionship.
There are a number of settings where you'll find care worker jobs, including:
In the community providing care and support in people's homes
Residential or nursing homes
Assisted living complexes.
Care worker salaries
The rate of pay you'll receive as a care worker will vary based on whether you're employed by Medacs, the NHS or a private healthcare provider. Care worker jobs typically have a salary of between £16,000–£18,000. You can earn more by taking on additional shifts or by moving up to a managerial or supervisory position.
Qualifications for care worker jobs
Care worker jobs are some of the most accessible ways to enter the world of healthcare, as you won't need to spend years training. Most care worker roles offer training on the job, with the only requirement that you've achieved your English and Maths GCSEs. You'll also need to pass an enhanced DBS (Disclosure and Barring Service) check before starting work, as you'll be working with some of the most vulnerable members of society.
If you want to give yourself a head start and broaden your career options, you could gain vocational qualifications like:
NCFE CACHE Level 2 Certificate in Healthcare Support Services
NCFE CACHE Level 3 Diploma in Healthcare Support
BTEC or NVQ in healthcare
It's certainly not a necessity though, as most care worker employers prioritise a willingness to learn and any previous experience from classroom-based qualifications.
Key skills for care worker jobs
The most important aspect of any great care worker is the skills and attributes they bring to the role. You should be:
Genuinely caring and patient
Able to treat your clients with respect and dignity
Reliable and punctual
A great listener and able to communicate with a wide range of people
Able to empathise and support in a range of situations.
Where care worker jobs can take you
Once you've entered the field of care work, you'll have lots of options about where your career goes. You could choose to specialise in a certain field, such as:
Dementia care
Live-in care
Residential care
Assisted living care for adults with disabilities
Assisting nursing staff by helping to care for children with specialist healthcare needs
Care worker jobs also give you many of the skills you need to progress to roles like healthcare assistant or nurse. Whilst you'll need to undertake further training or study, your experience will be invaluable in setting you up for success.
What's next for your career?
Search and apply for care worker jobs right here with Medacs. We receive more than 1,000 jobs every single day, giving you the freedom to choose opportunities that are right for your unique circumstances. We are also a supplier across all NHS frameworks and receive first sight of agency shifts at 150 Trusts, including both long- and short-term bookings.
Medacs also has lots of vacancies with private healthcare companies. If you need help negotiating things like pay, you'll receive a dedicated consultant who can help you do just that. They'll also help you access the money you've earned quickly through daily payroll (subject to Trust regulations) and ensure all of your queries are answered.
What's more, you'll have endless career opportunities with Medacs. We have vacancies across multiple Trusts and employers which give you the chance to develop new skills and progress your working life. And whilst you're registered with Medacs, you'll be able to access free training courses that help you become an even better healthcare professional.
Browse and apply for care worker jobs