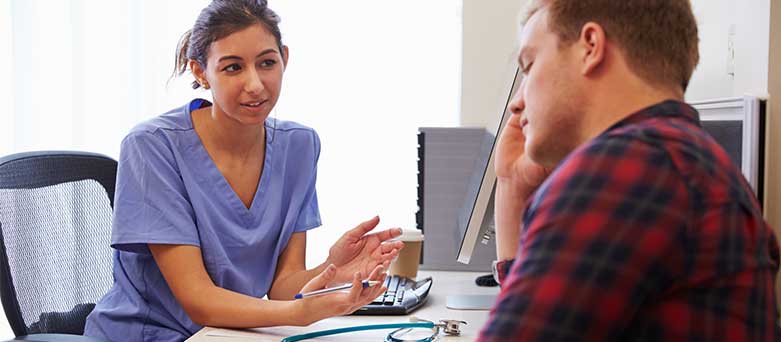 A day in the life of a mental health nurse
"Being a mental health nurse can be hard, but when you experience someone smile for the first time in a long while or get thanked for all your support it feels so worthwhile. I think it is a privilege to have someone share their inner most thoughts and feelings with you." - Anne Anderson, Medacs Director of Nursing & Clinical Governance.
Around one in four adults1 will be affected by some kind of mental health issue in any given year. The importance of mental health is more widely recognised now than ever before, and it impacts every area of our lives and affects everything we say, think or do.
Previously referred to as 'mental illness' or 'mental health disorders', mental health refers to a wide range of conditions which can affect your mood, thinking and behaviour. Mental health nurses play a crucial role in helping people who are suffering from such conditions to get the support they need to manage and overcome them.
There are some great opportunities to join Medacs' teams as a mental health nurse, so to find out more about what your daily life could look like in this role, read on.
What does a typical day as a mental health nurse look like?
Whether you're heading to a hospital, trust or medical centre in your role as a mental health nurse, you could be clocking on for a day or night shift, on a weekday or a weekend. Typically, you'll start the day with a team meeting with other colleagues, during which you can discuss any particular patients who are experiencing distressing conditions and who you believe need extra attention.
The patients you're working with may have conditions such as clinical depression, an eating disorder or psychosis, so you'll need to be in continuous contact with them to assess if treatments are working. You could hold a caseload of up to 30 patients who you will assess and monitor. You'll work with them and their families closely to raise awareness of the condition or conditions the patient is facing, and to develop treatment and therapy plans.
If you're a community mental health nurse, you'll likely need to head out into the community to make contact with someone who has been referred to you for extra attention, or to check up on a regular patient. You might be working with patients who have just come out of a psychiatric hospital, or picking up some shopping for a patient who is struggling to leave the house; no two mental health appointments will be the same.
How do you become a mental health nurse?
The main pathway to becoming a mental health nurse in the UK is to earn a nursing degree, or a nursing degree with an emphasis on adult and mental health. However, there are other routes into mental health nursing such as nurse degree apprenticeships and nursing associate apprenticeships. Following your studies, you'll need to be registered with the Nursing and Midwifery Council (NMC) and have carried out at least six months' worth of relevant experience within the last three years.
You'll also need to have the right skills to make sure you can provide the support your patients need. Relevant skills for mental health nursing include:
excellent listening and communication
emotional resilience
empathy of the situations your patients are in
being highly observant
strength, stamina and physical fitness if you're operating in a busy ward
the ability to think quickly
What challenges could mental health nurses face?
Particularly within the NHS, staff shortages can be a big problem when it comes to delivering care to those who need it. This can sometimes mean that mental health nurses have large caseloads and aren't always able to spend as much time with their patients as they might like.
Working as a mental health nurse can also be emotionally draining sometimes, as you're going to be working with people with often complex aid needs. Whilst your colleagues will always be there to help you and give you support where needed, this line of work can take a toll emotionally.
Why choose to specialise in mental health?
Mental health can be an extremely rewarding field to specialise in. You'll be helping to break the stigma around mental health, whilst at the same time supporting people with managing and overcoming conditions that can sometimes prevent them from living the lives they want.
Many mental health nursing agency roles also offer a lot of flexibility in terms of the shifts and where you work.
-----
Ready to find a new role or embark on a rewarding pathway in the field of mental health? As Medacs is a preferred supplier of medical professionals to the NHS, you can have sight of many mental health nursing jobs before anyone else when registered with us – including great opportunities with NHS Trusts such as Oxford Health NHS Foundation Trust.
Offering a support service (called Care4Carers) to help with your wellbeing, daily payrolls (trust dependent) and a dedicated consultant for you to speak to, Medacs can help you find the mental health nursing role that's right for you.
1. Mental Health Resource. C2022. Facts and Figures. [Online] July 2022. Available: https://www.mentalhealthresource.org.uk/facts-and-figures