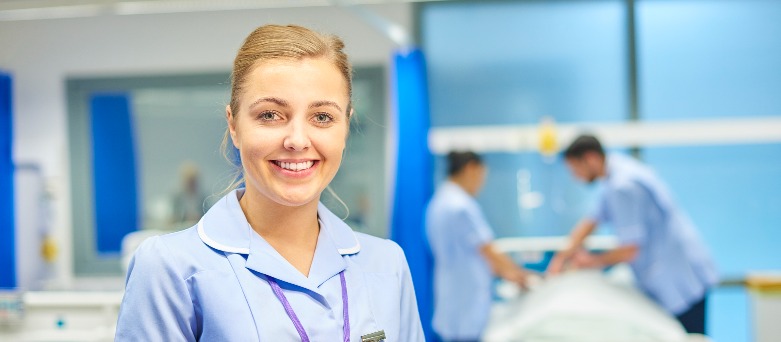 Registered General Nurse Job Description
Registered general nurses, more commonly known as adult nurses, help to oversee the care of patients in a variety of healthcare settings. Depending on your role, you may assist patients with long-term conditions such as heart disease and diabetes, or look after those facing acute illnesses or injuries.
Medacs has lots of registered general nurse roles available all across the UK.
Being a registered general nurse
Registered general nurses provide care to an incredibly wide range of adult patients, ranging from those who are severely unwell or terminally ill, to those who need check-ups and long-term care to manage health conditions. Each day is likely to look different, but common tasks include:
Taking bloods or inserting/maintaining IV lines
Ensuring patients receive medication
Dressing/cleaning wounds
Helping with personal care
Updating other healthcare staff, such as doctors, on any changes in your patients' conditions.
Nurses can choose to work in a wide variety of settings, including:
Hospitals
GP surgeries
Outpatient clinics
Specialist clinics, such as oncology or sports therapy
Residential care homes
In the community, visiting patients in their own homes.
Registered general nurse salaries
If you choose to work for the NHS, you'll begin on band 5 of the Agenda for Change (AfC) pay system, with a salary of between £25,655 and £31,534. Over time, it's possible to progress up to band 8, commanding a salary of up to £90,387 as a chief nurse. You can also earn a higher salary by opting for nursing roles within private organisations or by adding agency shifts into your working week.
Qualifications for registered general nurse jobs
To become a registered general nurse, you'll need to complete a nursing degree at university. First, you'll need to achieve five GCSEs at A*-C (or grades 9-4 under the new grading system) and pass two to three A levels or equivalent qualifications (such as BTECs). Universities may have slightly different entry requirements and nursing can often be competitive, so it's wise to check with your chosen institution before applying.
Alternatively, if you've already got a degree, you may be able to qualify through a postgraduate course. Nursing degree apprenticeships are a new way to qualify through your employer, and the numbers of opportunities available are set to grow over the coming years.
Key skills for registered general nurses
In addition to your qualifications, you'll need a lot of soft skills to become the best possible nurse. Important skills and attributes include:
Patience and the ability to stay calm under pressure
The ability to work as part of a team of medical professionals, including doctors and allied healthcare staff
Excellent communication skills
Great time management and the ability to juggle tasks
Problem-solving skills
Empathy and an approachable nature.
As a nurse, you'll often be the first point of contact for patients on wards, meaning you'll need to reassure and support them, and know when to alert your colleagues if something isn't right.
Where registered general nursing can take you
Once you're qualified, there are lots of routes you can take to progress your career. Many registered general nurses choose to specialise in a certain area, such as operating theatres, intensive care or palliative care. You could also move up the ranks to become a charge nurse or ward sister and, eventually, a matron.
There are lots of other opportunities for registered general nurses, depending on what your goals are. You could move into management, work in public health or decide to pursue clinical research. You could even move into education and help train the next generation of nurses using your real-life experience.
What's next for your career?
Search for your next registered general nurse job and apply within minutes through Medacs. We receive more than 1,000 jobs every single day, so you'll have plenty of choice when looking for your next role. Whether you're seeking permanent roles, temporary positions or part-time work, you're likely to find your perfect fit with Medacs.
We're a supplier across all NHS frameworks and offer first sight of agency-allocated shifts at over 150 NHS Trusts, with both short and long-term bookings available. You'll stay in control of your work/life balance and will receive a dedicated consultant who can help with things like pay negotiation and offer endless support and advice.
If you want to develop your skills and broaden your horizons, Medacs makes it easy to do just that. We have vacancies across lots of trusts that allow you to build your professional capabilities and move into new departments to find which area of nursing suits you best.
Moving to the UK
If you'd like to work as a registered general nurse in the UK, Medacs can help. Every year, we help more than 1,000 international healthcare professionals build their careers in the UK with roles that suit their lifestyles. You can find more information about making the change on our Moving to the UK page.