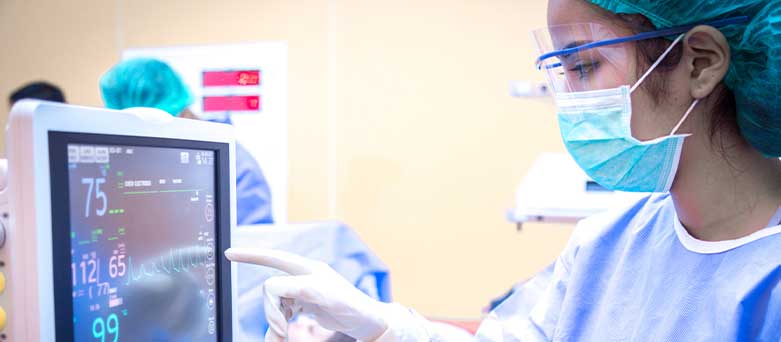 A day in the life of an agency ITU nurse
Being part of a hardworking intensive treatment or therapy unit (ITU) – or intensive care unit (ICU) team, draws on all your ability, experience and resilience. It's also hugely rewarding, with constant opportunities to develop and strengthen your acute care skills. The sense of pride and achievement that comes from delivering acute patient care, supported by colleagues and state-of-the-art technology will inspire you, and at Medacs we have plenty of fantastic opportunities for those looking for a career as an ITU nurse.
So what makes each day as an ITU nurse so challenging and rewarding?
A typical day as an agency ITU nurse
As an agency ITU nurse your working day is flexible and filled with a whole spectrum of responsibilities. You are caring for people with acute illnesses or injuries who need specialist support, and sometimes patients who need post-operative care.
On any day, you may have to assess, observe, monitor and chart a patient's vital signs, and ensure that all medical equipment is working as it should. At the same time, you'll be communicating clearly and calmly with patients, relatives and colleagues, and keeping all records accurate and up to date. Whatever your day involves, you'll be acting as a professional role model for others around the hospital. There is nothing 'routine' about being an agency ITU nurse; you could be working at a whole range of trusts and health boards, on nights, days, weekends and shift rotas.
Qualifications and skills you'll need to become an ITU nurse
To become an ITU nurse, you'll need to be a registered nurse with at least six months of relevant UK experience in ITU within the last three years. Technical skills such as discharge planning, the ability to perform CPR and working knowledge of life support technology are vital. You'll also need to pass an enhanced background check. If you've gained experience working in a post-anaesthesia care unit (PACU) as a theatre/recovery nurse, you will be well suited to a role in an ITU as the skills needed are very similar.
In the ITU environment, the ability to remain calm and measured in stressful situations is key. Meticulous attention to detail and a methodical approach are also vital. With empathy and understanding, you should be naturally flexible and always ready to learn and improve. Computer skills are also always part of the job.
Challenges faced by an ITU nurse
As an agency ITU nurse you would need to balance clinical knowledge and experience with empathy and sensitivity. You're supporting seriously ill patients and their families daily, so the challenges are professional, personal, technical and emotional. However, it's this breadth that makes the role so rewarding.
The workload can be a challenge at times because there are not always enough capable and experienced nurses in the wider team and the nurse-to-patient ratio might be high. Prioritising care can also present dilemmas, as your team can face bed shortages or a lack of the right equipment.
Why specialise in intensive care?
The fact that you're providing intensive care is a significant reason why this makes for a truly fulfilling career. It's satisfying to be part of a highly skilled and close-knit team, in an environment where you never stop learning. Every patient is different, so you can acquire a depth of knowledge, technical skills and experience that is then transferable to many other departments.
Apply for your next role with Medacs
Medacs can really boost your career in ITU Nursing. We are a fast-growing, preferred supplier of medical staff to the NHS and can offer a wealth of temporary opportunities with long lines of work.
We provide enhanced pay rates, next-day payroll, block bookings in preferred locations and a dedicated theatre booking team. Joining Medacs as an ITU nurse can also certainly be a route to exciting insourcing work opportunities.