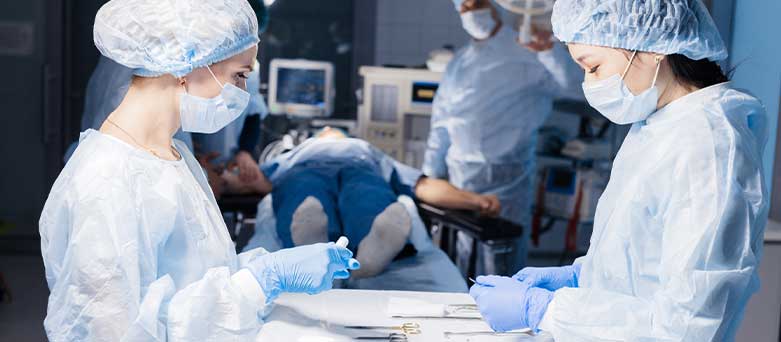 A day in the life of an agency theatre nurse
As a theatre nurse, you care for people from every walk of life, supporting surgical teams through diverse operations. At Medacs we offer plenty of exciting opportunities for theatre nurses, bringing you all the benefits of agency work, such as flexible shifts and hours, and richly varied experience.
With the NHS focusing on reducing patient waiting lists, now is a great time to make the most of your potential, with enhanced pay rates and block bookings too.
A typical day as an agency theatre nurse
Your role as a theatre nurse is to support key professionals through each phase of an operation and equally to provide support for patients. A shift usually begins with checking equipment and the theatre. Other vital checks include drugs and relevant paperwork.
Next comes that all-important team meeting. Here, the scrub team – anaesthetist, surgeons and operating department practitioner (ODP) – briefs theatre nurses about the surgery list and discuss individual patient care. This is also where your team leader allocates roles to each team member.
Now it's time to attend to your first patient. Communication, collaboration and minute attention to detail are vital at every step. You'll be helping the anaesthetist to prepare specialist drugs and equipment; this essential process of being on hand to supply what's needed continues throughout surgery. Sometimes you'll call on the support of nurses with more specialised knowledge, to help with equipment and fluids. This might be the case in orthopaedic or paediatric surgeries, for example. You'll also act as a link between theatre and the rest of the hospital.
Once the patient is in recovery, your duty of care continues, as you monitor their postoperative wellbeing and offer ongoing support.
Qualifications and skills needed for an agency theatre nurse role
To become a theatre nurse you will need to be a registered nurse with at least six months of recent NHS theatre experience gained within the last three years. You will also need to pass an enhanced background check.
Because you're playing such a vital role in theatre, a range of core personal skills will be useful. These include being highly organised, flexible and collaborative, a natural communicator and happy to prioritise tasks under pressure. The ability to scrub for a range of different specialties will also stand you in good stead. You must be able to concentrate over long periods and react quickly and calmly during an emergency. During patient evaluations, you would need to be able to employ empathy and understanding.
What challenges could you face as a theatre nurse?
Life as a theatre nurse can be unpredictable. Sometimes you can be asked to scrub for a specialty where you don't have much experience, or perhaps your shift pattern means that you're unable to see a patient through to recovery. Equally, your shift might be extended because an operation became more complex than anticipated, or there may be delays with patients' surgeries owing to a lack of communication between departments.
As an agency nurse you enjoy flexibility and variety, but you can sometimes feel less integrated with your team. This may be down to a lack of familiarity with policy and procedures, including simple things like site access and using the correct smart card. Not being part of the social calendar enjoyed by permanent staff may compound this feeling.
Why choose to specialise in theatre work?
Theatre work provides a great springboard for your career. Working in the surgery room develops a range of highly transferable skills and a potential future pathway towards becoming a surgical care practitioner.
This is an intense, challenging environment, where every day is different and the opportunities to develop are numerous. There's high demand for agency theatre nurses, and additional weekend insourcing roles offer enhanced daily rates with long lines of work. At Medacs we can connect you with well-paid, satisfying insourcing and agency theatre roles.
Why work via an agency and not in a substantive role?
Flexibility is the key benefit to working via an agency. As an agency theatre nurse you decide when and where you work. You also enjoy the opportunity to take on lucrative weekend insourcing work to supplement your main agency theatre roles.
Apply for your next role with Medacs
When it comes to your agency nursing career, Medacs can offer you a range of advantages; a plentiful supply of well-paid roles, next-day payroll, block bookings in preferred locations and first pick of available shifts. Being a preferred NHS supplier for a range of trusts, we can secure you a whole host of benefits and find you your next role as an agency theatre nurse.