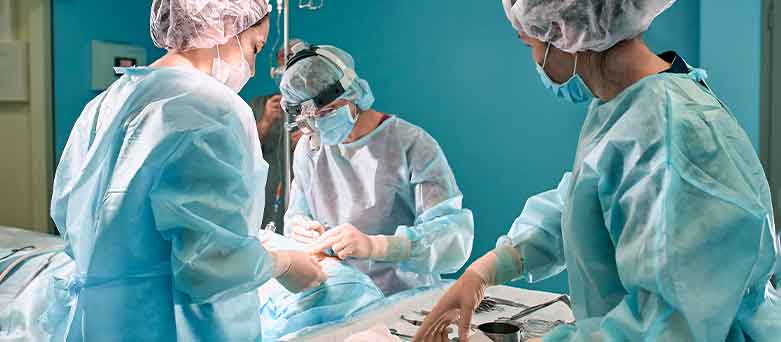 Theatre Nurse Job Description
Theatre nurses work with patients of all backgrounds and ages, supporting surgeons at every phase of a patient's operation. Theatre nurses undergo specialist training and hone their skills before taking on a role as a specialist as that of a theatre nurse. If you're looking for your next theatre nurse role, you can find a wide variety of temporary and permanent roles with Medacs.
Being a theatre nurse
Theatre nurses support a number of key healthcare professionals through the various phases of an operation. You will need to be highly attentive to detail, well organised and fully capable of working quickly in pressurised settings. As part of your daily responsibilities, you will be:
Supporting patients through the preoperative phase of an operation, where you will be helping to carry out assessments.
Assisting anaesthetists to prepare specialist drugs and equipment, as well as assessing the patient immediately before surgery.
Preparing and supplying tools and equipment throughout surgery, as well as acting as a link between the surgery room and the rest of the hospital.
Monitoring the wellbeing of the patient after surgery and offering further care and support going forward.
The role of a theatre nurse is often complex and requires plenty of experience and specialist training. It's essential that theatre nurses are capable of working in pressurised environments whilst being able to prioritise and collaborate with different medical specialists.
You won't just be working in surgery theatres though. Theatre surgeons operate fairly broadly in a number of different departments, such as in cardiac catheterisation units. You may also assist with the fitting of cochlear implants and pacemakers.
Theatre nurse salaries
NHS pay scales mean that as a theatre nurse, you will typically earn a basic salary at either band 4 or band 5 of the NHS pay grade. This means that you will most likely begin earning a salary somewhere between £22,549 and £31,534. This will increase based on your continuing experience. It is often the case that working for private agencies will push your salary beyond this.
Qualifications for theatre nurses
To be eligible to become a theatre nurse, you will already need to be a registered adult, child, mental health or learning disability nurse. This is most commonly done through studying a nursing qualification at university level, but this isn't always the case. There are Registered Nurse Degree Apprenticeships (RNDA) which provide an alternative way to qualify as a nurse in any of the above areas.
To qualify as a theatre nurse, you will need to undertake specialist training. After an initial induction period, you will be able to undertake specialist training courses that are designed to complement your existing skills as a nurse, whilst also focusing your skills more towards the theatre specialty.
Key skills for a theatre nurse
Whilst you won't be performing surgery or administering anaesthetic to your patients personally, as a theatre nurse, you will be playing a vitally important role during a sensitive time for patients. Because of this, you will need to have many of the following skills:
Highly organised
A flexible and collaborative approach
Able to prioritise
Excellent interpersonal skills
Attention to detail
A long concentration span
Empathetic communication skills, particularly as you carry out patient evaluations
Able to react quickly and often at short notice in an emergency setting
Where can theatre nursing take you?
Nursing is one of the most employable degrees to have, so having a specialty such as theatre nursing under your belt will only set you up for a bright career pathway.
As a theatre nurse, you will already be experienced when it comes to working in the surgery room, so an obvious pathway for future development is becoming a surgical care practitioner. Practitioners provide care across wards, theatres and in clinics, and are an invaluable part of the surgery team.
Besides this, you may also choose to pursue managerial roles within hospitals, where you will be taking greater responsibility for patients and operations working within a particular department. Or, you may decide that your interests lie more in education and research. There are certain clinical academic careers that will allow you to produce and publish research funded findings on clinical treatments.
What's next for your career?
There are many new jobs posted daily on our website, so if you're looking for your next theatre nurse or ODP nurse job, there are many good reasons to search and apply for roles with us.
Not only will Medacs help negotiate the right pay package for you, but you will also be able to benefit from free additional training and education courses designed to help you pursue your dream role. You'll be given guidance and support when it's time for revalidation and you'll be at liberty to choose where and how often you want to work. If you find your next theatre nursing job with us, you'll be signing up with a leading medical agency that has your dream job in mind.
Moving to the UK
We have successfully placed over 1,000 international medical workers into roles within the NHS and wider health sector. If you're considering moving to the UK for a theatre nursing or ODP job, see more details on how we can help you on the Moving to the UK page.