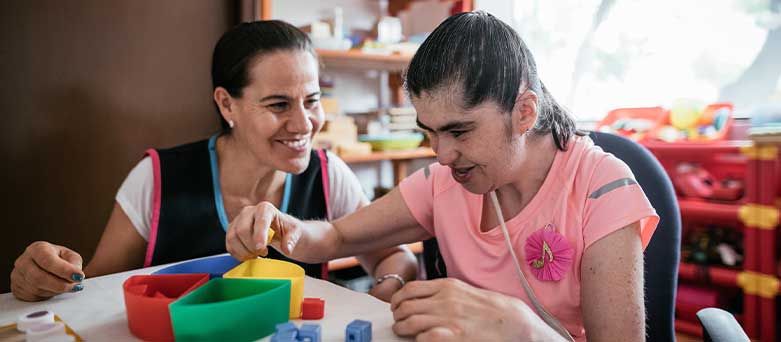 Learning Disability Nurse
Learning disability nurses give specialist support to people with learning disabilities as well as their families. It is a diverse role and one that brings a lot of job satisfaction and reward. If you're looking for learning disability nurse jobs, you can find a wide range of temporary and permanent medical roles with Medacs.
Being a learning disability nurse
A learning disability nurse is a specialist role, and one that requires an individual to have an empathetic and calm way with people. On a regular basis, you can expect to:
Engage with individuals with learning disabilities in order to create a relationship
Interpret and understand behaviours with a view to help put together specialist and tailored support
Help individuals complete day-to-day tasks as required
Carry out group work on issues such as problem solving, anxiety management, healthy living and behaviour management
Coordinate health care reviews with other health stakeholders
Plan activities, social events and holidays with individuals.
Learning disability nurses need qualifications and experience, but most importantly, these nurses need to be caring and compassionate, and have a dedication to helping individuals achieve their best possible outcomes. Many children who are identified as having learning disabilities are living longer, more fulfilled lives well into their adulthood, and it's learning disability nurses who are at the heart of this progress.
This is also a role that affords a good amount of flexibility. As a qualified learning disability nurse, you'll have the freedom to work within NHS hospitals and trusts, within the community or within a private sector role. As your skills will be needed in various environments, you'll be able to pick and choose where you work.
Learning disability nurse salaries
Your working locations will determine to some extent your salary. If you choose to work within the NHS, your basic salary will be in line with the Agenda for Change (AfC) pay scale, meaning you'll be earning around £25,655 depending on experience. As you gain more experience, you'll be able to step into more senior roles, such as a consultant. Nursing consultants' salaries are at band 8A, meaning a salary of around £47,126.
Private sector salaries can often be higher than these NHS pay scales, though. Private pay can also vary significantly but is often between £24,000 and £34,000. This can also vary a little depending on your location and the size of the institution you'll be working for.
Qualifications for learning disability nurses
Learning disability nurse jobs are often competitive and could seem challenging to get. As a basic requirement, you'll need ideally both an undergraduate degree and a postgraduate degree in a relevant subject. Upon qualification, you'll need to be registered with the Nursing & Midwifery Council (NMC). You could study a degree in a health-related subject, psychology, life sciences or social work, but as long as the course is recognised by the NMC, you may be able to use it to become a learning disability nurse. You could also secure a position on a nursing apprenticeship to help gain practical experience in a ward.
Key skills for learning disability nurses
A good academic background will help you pursue a career as a learning disability nurse, but it's vitally important that you have a certain way with people as well. You'll be working closely with individuals who require specialist support on a regular basis, so having the following skills will certainly help you:
Empathy, sensitivity and compassion
Flexibility to respond to a range of different requirements as needed
Emotional resilience and perseverance
Good organisation
Problem-solving skills
Good judgement to find the right solutions and recommendations
The ability to prioritise effectively.
Where can learning disability nursing skills take you?
As a learning disability nurse, you can expect to have something of a generalist mindset, as you'll need to work closely with general practitioners (GPs), psychologists, social workers, teachers, therapists and other healthcare workers. This means that there is plenty of room for specialism and career progression.
You could choose to focus your skillset into specialist work, such as working with sensory disabilities, supported-living management or research. One of the better-paid health specialisms is working as a nursing consultant, where you'll be assuming more responsibility for the wellbeing of a broader part of a medical institution's individuals.
What's next?
We receive learning disability nurse jobs, as well as many other specialist medical roles, daily, so if you're looking for your next medical placement, you're sure to find one with Medacs.
We can provide support on everything from pay negotiation, revalidation support to further skills development, so wherever and however you prefer to work, you can search and apply for your next learning disability nursing job with Medacs.
Moving to the UK
We can also help you move to the UK if you aren't based here already. We help place over 2,000 international health professionals into UK-based medical roles each year, so consult the Moving to the UK page to see how we can help you.