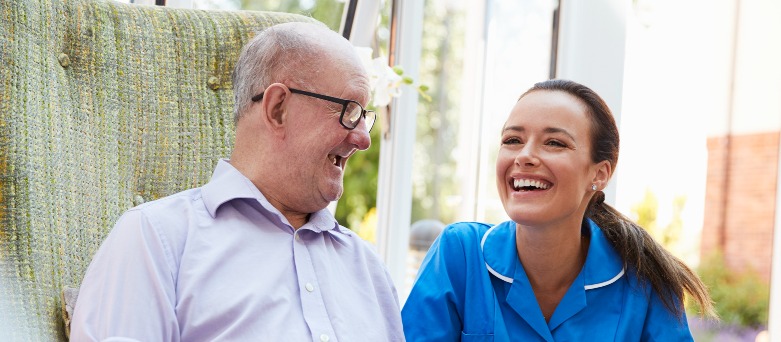 Community Nurse Job Description
Community nurses are responsible for offering complex care and advice to some of the most vulnerable patients in communities. You'll look after people with long-term health conditions, physical disabilities and terminal illnesses, as well as those who are temporarily incapacitated or who have just left inpatient care.
Medacs has many community nurse opportunities, including permanent and temporary roles, for medical professionals all across the UK and the world.
Being a community nurse
Community nurses, or district nurses as they're otherwise known, look after housebound patients, who often have complex health problems, with the aim of keeping them out of hospital and in the comfort of their homes.
As the name suggests, community nurses provide care outside of hospital settings. Most will visit patients' homes to provide care, and they're likely to be based at a local general practitioner (GP) surgery or community care hub. Every day is likely to be a little different for a community nurse, as you'll look after patients with a wide range of health concerns. Common duties include:
Administering medication
Taking blood samples
Cleaning and caring for complex wounds
Looking after terminally ill patients by providing palliative care
Cleaning and maintaining ports, PICC lines and other IV duties
Caring for leg ulcers
Working as part of multi-disciplinary teams, with professionals such as social workers, therapists and specialist nurses, to provide excellent care
Community nurse salaries
Typically, NHS community nurses will begin their careers at band 6 on the Agenda for Change (AFC) pay system, earning between £32,306 and £39,027. You will also receive London weighting (between 5-20%) if you're based in the capital. However, if you work for a private healthcare provider or pick up extra agency shifts, your income will likely be much higher.
Qualifications for community nursing jobs
In order to begin training for community nursing jobs, you will need to have completed a nursing degree and be a registered adult, child, mental health or learning disability nurse. Once this step is complete, you can apply for a district nurse training programme.
There are two main options for district nurse training. You can apply for a postgraduate degree level course, which will usually take at least 32 weeks (one academic year) to complete. It's also possible for nurses to be funded onto a training programme by their employer. Alternatively, you can complete a level seven apprenticeship in district nursing, which would involve you finding an apprentice position with either an NHS or private healthcare provider.
During training, you'll spend 50% of your time on theory and 50% on hands-on practice, covering four main areas:
Clinical nursing practice
Care and programme management
Clinical practice development
Clinical practice leadership
Key skills for community nurse jobs
In addition to your essential qualifications, you'll need to have a number of particular qualities and traits to succeed as a community nurse. These include:
Adaptability and resourcefulness
Strong organisation
Confidence
Ability to cope in challenging and potentially emotional situations
Leadership and management skills (if you're seeking a management position)
Great communication
Problem solving and the ability to make quick judgements
Empathy and kindness
Where community nursing can take you
Qualified district nurses have lots of career options. You could opt to become a team leader, move up the career ladder to become a community matron or become involved in the teaching and training of the next generation.
You can also choose to become an advanced nurse practitioner. You'll support GPs by providing community care and helping to assess patients, before passing them on for further care from colleagues or specialists.
What's next for your career?
Looking for NHS community nurse jobs? We receive more than 1,000 new roles every day and are a supplier across all NHS frameworks – click here to view and apply for current roles. Medacs also receives first sight of agency-allocated shifts at more than 150 Trusts, so you'll have the luxury of choice when it comes to your working patterns.
Medacs' dedicated community nursing team will make sure you find a role that suits you and your lifestyle. All you need to do is tell us when, where and how often you want to work and our specialists will help you find the ideal community nursing jobs. You'll have a dedicated point of contact, who can help you with everything from negotiating rates to ensuring that you get paid as swiftly as possible.
If you're looking to progress your career, you can access a wide variety of free courses as soon as you register with Medacs. And as an international agency with opportunities across multiple Trusts and territories, you'll have access to lots of opportunities to develop skills or move into new departments.
Moving to the UK
Beginning a career in a new country can be a little nerve-racking, but Medacs is here to help you make the move to the UK. You can find lots of useful information on our Moving to the UK page.