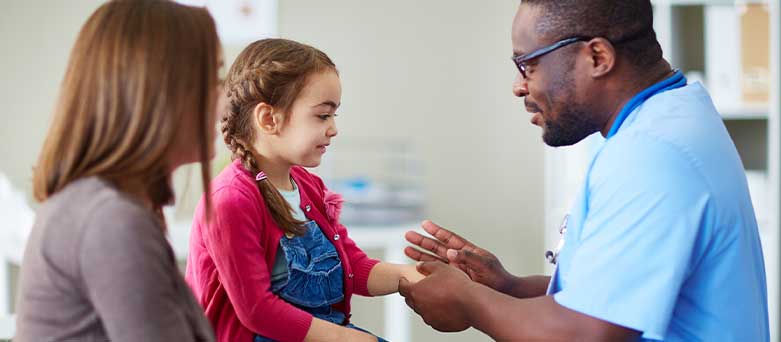 Paediatric Nurse Job Description
Paediatric nurses are crucial to the health and wellbeing of infants, children and teenagers. Whether you're looking after acutely unwell patients, supporting them through long-term or chronic conditions or sorting out breaks and bumps, your role will be varied and exciting.
With Medacs, you can find the ideal paediatric nurse role for you. We have roles all across the UK and the world that can help you achieve your career goals.
Being a paediatric nurse
Paediatric nurses look after a wide range of children and teenagers, ranging from those who are mildly unwell or who have had accidents, to those who are acutely unwell or terminally ill. Whether you're looking after babies with complex health conditions, administering chemotherapy treatment to children or supporting teenagers through a new diabetes diagnosis, you'll play a vital role in ensuring they receive excellent care.
You'll help with taking blood and urine samples, ensure medication is properly administered, assist other clinicians with treatments, help patients with personal care, and offer company and reassurance to children at difficult times.
Your daily routine as a paediatric nurse will vary depending on the clinical setting you're in, which could be:
Accident and emergency (A&E) departments
Hospital wards
Outpatient clinics
Family health clinics
In the community as a health visitor.
Qualifications for paediatric nurse jobs
To become a paediatric nurse, you'll first need to achieve five GCSEs at grade A*–C (9–4 under the new grading system) and at least two A levels or other level three qualifications (such as BTECs/NVQs). You'll need to obtain a degree in child nursing, though it's also possible to qualify through a postgraduate degree, depending on the relevance of your undergraduate degree.
There are also a growing number of nursing degree apprenticeships available. You'll work with an employer and achieve your qualifications as you earn a wage, making them an attractive alternative option to the traditional university route.
Key skills for paediatric nurse jobs
One of the most challenging aspects of jobs in paediatric nursing is the fact that you'll often work with young patients who cannot properly explain their symptoms. To get around this, you'll need to have great medical knowledge and understand when to seek help for your patients. There are lots of other skills the best paediatric nurses possess, including:
Patience
Excellent communication skills
A friendly and approachable nature
Ability to advise and teach others
Ability to work as part of a team of healthcare professionals.
Where paediatric nursing can take you
Once you've achieved the necessary qualifications, you can choose a number of routes to progress your career in paediatric nursing. There are lots of areas of specialism you can choose, including:
Emergency care (A&E)
Neonatal
Oncology
Palliative care
Transplant medicine
School nursing.
You could choose to progress into clinical management positions, which could see you overseeing a ward of nurses of an entire department. Alternatively, you could move into an administrative management position, undertake further training to become a nurse practitioner or move into teaching.
What's next for your career?
Find the ideal paediatric nursing role for you right here with Medacs. We receive more than 1,000 new roles every day and we're a supplier across all NHS frameworks, meaning you can search and apply for a massive range of paediatric nurse jobs.
If you're looking for temporary or shift work, Medacs is the best place to find your next job. We get first sight of agency-allocated shifts at more than 150 NHS Trusts, and both short- and long-term bookings are available. Choose shifts that fit around your lifestyle or family commitments and get paid quickly through daily payroll if applicable.
What's more, our dedicated teams will always be on hand to offer you advice and guidance, and to help negotiate important matters like pay. And if you're looking to develop new skills and move into different roles, our wide range of opportunities will allow you to do just that. Just tell us when, where and how often you'd like to work and we'll do the rest.
Moving to the UK
If you're looking at jobs in paediatric nursing in the UK but you're not sure how to make the move from another location, Medacs can help. Every year, we help more than 2,000 healthcare professionals find their dream job right here in the UK. Check out our Moving to the UK page for more information.