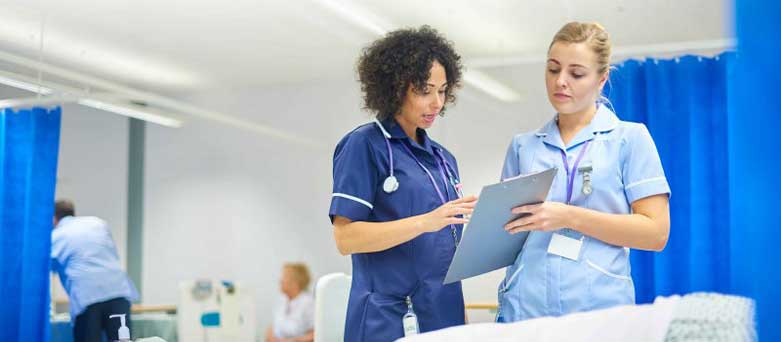 Is agency nursing right for you?
Agency nursing is a rewarding career choice that offers flexibility in terms of working hours combined with opportunities to broaden your experience working in different environments. And when you start working as a nurse with a professional agency like Medacs, you will be able to apply for a range of different nursing positions before anyone else.
Working in agency nursing
Agency nursing is broadly the same as traditional nursing, but offers a more flexible working model. As an agency nurse, you will have more choice in both where and when you work, so if you have childcare or other personal commitments for example, you can opt for the shifts that work for you.
Typically, agency nurses will need a minimum of 12 months' experience working in a hospital, and if you're an international nurse you may be limited to working 20 hours a week in line with your visa requirements. In any case, having some NHS experience is essential for becoming an agency nurse. Nurses will also need a validated Nursing and Medical Council (NMC) pin to prove that they have both the experience and skills to work as a nurse. Whilst some trusts will take nurses with less than six months' experience, having more experience in nursing or a nursing home will open up more roles to you.
As an agency nurse, it's beneficial to have well-rounded skills to ensure you can provide the best possible care to often-vulnerable patients in all sorts of clinical environments. Depending on your skillset, interests and experience, you could pursue medical roles in a range of different environments, from hospital wards or specialist departments, to community trusts, prisons or in the private sector too.
Agency nurses are also paid faster than nurses in permanent positions in that you would get next-day pay instead of being paid monthly.
Salaries for agency nurses
Experience is key for agency nurses and this will be reflected in your salary. The pay scales for temporary nurses vary depending on where you work and how experienced you are. Hourly rates for unregistered nurses or healthcare assistants start at around £12 per hour for weekday shifts with closer to £20 for working Sundays or bank holidays. Registered nurses can earn between £23 and £50 per hour, depending on their specialty, experience and where and when they work.
Generally, hourly rates are dictated by national frameworks, but NHS providers do have the flexibility to offer increased rates when they are facing severe staffing shortages.
But this isn't the only way to boost your earnings. At Medacs, we offer a number of bonuses to help you boost your income, from referring friends to working more hours.
Becoming an agency nurse with Medacs
With Medacs, you'll be working with an agency that puts your needs first. We are a preferred supplier of medical professionals to the NHS, meaning that if you join Medacs, you'll be able to see and apply for roles before anyone else does. There are new roles posted daily and, with plenty of support to help you get the role you're looking for, joining Medacs is an excellent way to start your career in agency nursing.