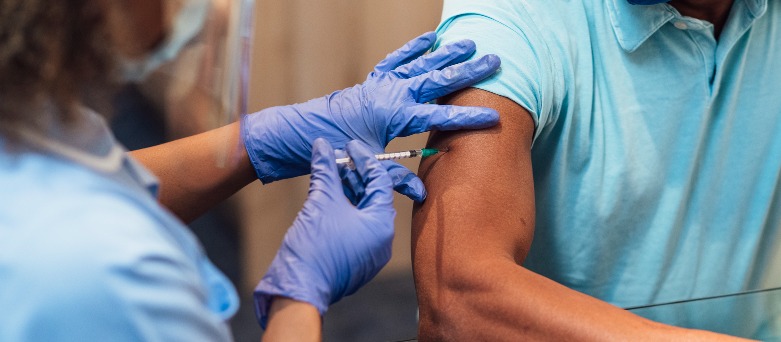 Vaccination Nurse Job Description
If you'd like to play a key role in initiatives like the UK's vaccination drive against Covid-19, a vaccination nurse job could be the ideal opportunity for you. You'll also help to protect the nation's health in pharmacies, GP surgeries and travel clinics, by delivering flu jabs, travel inoculations and meningitis vaccinations, to stop preventable diseases.
Medacs has lots of vaccination nurse jobs and immuniser vacancies, including permanent and temporary roles.
Being a vaccination nurse
Vaccination nurses deliver vital doses of vaccines that protect against or reduce the impact of a range of preventable diseases, including:
Tetanus
Flu
Pneumonia
Meningitis
Covid-19
Hepatitis A and B
Tropical diseases such as Yellow Fever
Rabies
You may run clinics, making sure they are sanitary and that vaccine doses have been properly prepared, or simply administering doses. You will also have to ensure proper hygiene and safety measures are followed, such as using a sharps bin.
Vaccination nurses will fill out paperwork and advise patients if there are red flags which mean they should not go ahead with immunisation, such as severe allergies. Additionally, you'll ensure patients and staff stick to Covid-19 rules, such as taking temperatures and wearing face coverings within healthcare settings.
You will also be responsible for helping to educate and reassure the communities you work in about the safety and efficacy of vaccines. You'll play a key role in educating your patients and the wider community and raising awareness of why vaccinations are important.
Vaccination nurses and immunisers can work in a number of different settings, including:
GP surgeries
Pharmacies
Dedicated vaccination centres
Travel clinics
Within the community, travelling to housebound or unwell patients
Vaccination nurse salaries
Vaccination nurses who work for the NHS can expect to be paid in line with band 5 or band 6 of the Agenda for Change (AFC) pay scale. This means you could earn a salary between £25,655 and £39,027, with an additional 5-20% for vaccination nurse roles in London. If you work in a private clinic or take on additional agency shifts, then you can expect to earn more.
Qualifications for vaccination nurse jobs
In order to qualify for vaccination nurse jobs, you will need to have obtained a nursing degree and be registered with the Nursing and Midwifery Council. You will also need to have a number of years' prior experience giving injections or vaccinations, which you could gain in community nursing or general practice nursing roles.
Before starting your role, you'll also need to pass a Disclosure and Barring Service (DBS) check and demonstrate that you have a good understanding of vaccination processes and the science behind the injections you're delivering.
Key skills for a vaccination nurse
In addition to your qualifications, you'll need to possess a number of important qualities and skills to be a successful vaccination nurse. These can include:
Empathy and a good bedside manner, particularly when dealing with needle-phobic patients
Excellent organisation and time management skills
Good knowledge of potential adverse reactions and how to handle them
Great attention to detail
Ability to work well under pressure and as part of a multi-disciplinary team
Good medical knowledge of vaccines, the processes and the science behind them, particularly if you need to reassure vaccine-hesitant patients
Where vaccination nurse jobs can take you
Honing your injection and vaccination skills whilst providing an essential public health service will open lots of doors. You could look for vaccination nurse jobs that will see you take on a more managerial or team leadership role, or choose to take on further study or training to specialise in the field. Additionally, you could move into a training or education role and help to teach the next generation of vaccination nurses.
What's next for your career?
If you'd like to find the ideal vaccination nurse job for you, Medacs is the perfect place to start your search. Find roles in convenient locations and hunt down working patterns that fit with your lifestyle, before applying with just a few clicks. Every year, we help thousands of skilled medical professionals, including over 1,000 international healthcare staff, discover their perfect jobs.
You'll stay in complete control throughout, as Medacs' consultants get to know you and present you with roles that are right for your ambitions and lifestyle. We also make sure that you can access your money quickly by running daily payroll (for most Trusts). You can also further your career by accessing free training courses through Medacs.
Choice is one of the fundamental things that working with Medacs offers you. We're a supplier across all NHS frameworks and have first sight of agency shifts at more than 150 Trusts, giving you many, many options. Browse through our vacancies and apply now.
Moving to the UK
Looking to move to the UK and secure a vaccination nurse job? At Medacs, we help more than 1,000 international healthcare professionals relocate every year. Find out more on our Moving to the UK page.