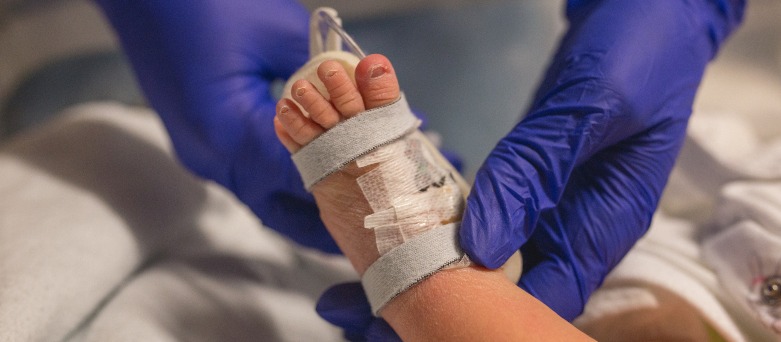 Neonatal Nurse Job Description
Neonatal nurses deal first and foremost with premature babies. Babies born prematurely can often suffer from a range of difficult and challenging conditions, and, as a neonatal nurse, this'll be the focus of the majority of your time. As well as assisting babies, you'll also need to be an important point of contact for parents, who themselves can be very distressed.
Neonatal nurses work in challenging and demanding environments, but this is precisely what makes this role so rewarding. There are a range of both temporary and permanent neonatal nurse jobs available, so if you're looking for your next neonatal role, you can find the perfect next step for you with Medacs.
Being a neonatal nurse
As a neonatal nurse, you may find yourself:
Monitoring and ensuring the wellbeing of a baby's condition
Managing a baby's fluid levels
Preparing and checking medication
Recording observation and documenting a baby's condition
Carrying out basic resuscitation in emergency cases
Acting as an empathetic point of contact for parents.
Neonatal nurses need to be able to work comfortably under pressure as well as being able to accurately prioritise the right tasks in the moment. Due to the pressures of the environment, you'll need to have good qualifications and experience. The specialist nature of this role means you'll be able to work across a range of different practices, from NHS hospitals, specialist neonatal units or private trusts and institutions. With Medacs, you can pick and choose which settings you practise in.
Qualifications for neonatal nurses
To begin applying for neonatal nurse jobs, you'll first need to be a registered adult nurse, child nurse or midwife. It's possible that some employers may ask you to gain some experience in a neonatal unit or to have had some experience with neonatal nursing issues such as handling bereavements or working with babies.
To become a qualified nurse or midwife, you'll need an undergraduate degree in paediatric nursing, adult nursing or midwifery. On top of gaining as much experience as possible in a neonatal unit during this time, it's also a good idea to pursue a postgraduate qualification in any of these subjects.
Key skills for neonatal nurses
As neonatal nurses work in a clearly challenging setting, there are a number of key skills that will benefit nurses and are important to help nurses deal with these pressures. Neonatal nurses need to be:
Highly knowledgeable in specialist and general healthcare fields
Confident when working under pressure
Able to prioritise the right tasks at the right time
Highly organised
Empathetic and understanding with people
Able to assess patients
Highly observant.
Nurses don't just work in neonatal units, you'll also work with a range of different health professionals such as paediatricians, dietitians, midwives and other infancy nurses, so having generalist mentality will also be an advantage.
Where can a role as a neonatal nurse take you?
There is a lot of room for specialism within the field of neonatal nursing. As you build your seniority and experience, the opportunity to pursue roles within management, education, research or advanced practice will become more readily available to you.
Alternatively, you could also choose to specialise as a neonatal consultant, where you'll be taking greater responsibility for patients within a particular department.
What's next for your career?
At Medacs, we receive dozens of new medical roles every day. So, if you're looking for neonatal nurse jobs, you can find a wide range of roles with us.
We're the preferred supplier of medical professionals to the NHS, so when you choose to find your next job with us, you'll be able to search and apply for roles within NHS environments before anyone else. And, if you're looking for job flexibility and additional support to go with your new role, you can count on us to help you with everything from future career development to revalidation support.
Apply for your next neonatal role with Medacs and be one of the many thousands of medical professionals finding their perfect job through us.
Moving to the UK
We help place over 2,000 international health professions into the NHS and other practices each year. Regardless of your background, specialism and nationality, we can help. Consult the Moving to the UK page for information on how we can help you pursue a medical career in the UK.