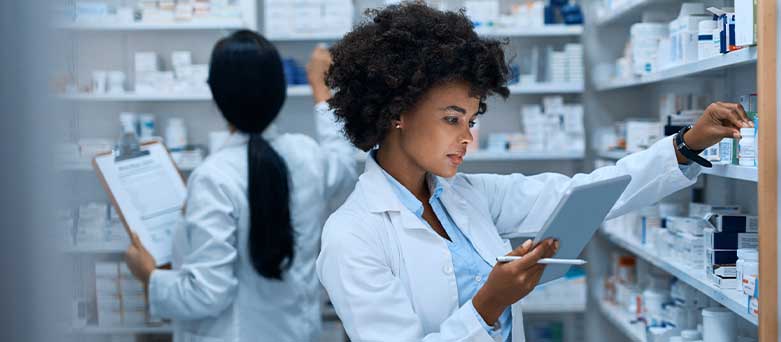 Pharmacist Job Description
Pharmacists help to prescribe and offer advice on medications to treat a wide range of health conditions and complaints. They're a key part of every field of medicine, from acute care to chronic disease management.
At Medacs, you'll find the ideal pharmacist role for you. We have many opportunities all across the UK just waiting for you to explore.
Being a pharmacist
Pharmacists are specialists in the field of medicine and help other healthcare professionals identify the best and safest course of medication for patients. You'll assist doctors in identifying and prescribing everything from antibiotics to pain relief to medication to treat mental and physical health conditions. It's also a pharmacist's responsibility to check for dangerous interactions between drugs and advise on alternatives in the case of allergies or intolerances.
You may also act as a first port of call for people experiencing potentially minor health problems, such as colds and flu, rashes and sores, supporting your local primary care services. You'll offer basic advice and product recommendations or direct them to the most appropriate clinicians.
Pharmacists can work in a number of settings, including:
General Practitioner (GP) practices
Community pharmacies
Hospital pharmacies
Pharmaceutical companies
Academia
Pharmacists typically work within multidisciplinary teams of other healthcare workers, including:
Pharmacy technicians and dispensers
Doctors, ranging from GPs to acute care staff to consultants
Nurses
Occupational therapists
Physiotherapists
Qualifications for pharmacy jobs
To qualify for pharmacist jobs, you'll need to complete a master's degree known as an MPharm. There are no strict entry requirements but it can be highly competitive, so strong A-levels in science and maths subjects will give you an advantage.
You'll complete academic and practice-based modules and spend one year completing your foundation training. Following this, you'll be eligible to register with the General Pharmaceutical Council (GPhC) and begin working as a pharmacist. Once you begin working, there may be additional opportunities to train and advance your knowledge as a pharmacist in your chosen field.
Key skills for pharmacist jobs
In addition to your in-depth knowledge of medicine and healthcare, you'll need a number of skills and traits to succeed as a pharmacist. These include:
Strong communication
Excellent attention to detail to ensure prescriptions are always accurate and appropriate
Strong team-working skills
Genuine passion for medicine
Great interpersonal skills
Where can a career in pharmacy take you?
Once you're a qualified pharmacist, you'll have lots of choice about where your career takes you. You can choose to work in a number of settings, including community clinics and even prisons. Alternatively, you could work in the pharmaceutical industry, helping to develop and make new medications, or move into management or academics. At the highest level, you could advise healthcare providers and government policymakers on the safest and most effective ways to provide medicines and pharmacy services.
What's next for your career?
Begin the hunt for your next pharmacist role right here at Medacs and start applying for pharmacy jobs today. Every day, we receive more than 1,000 new vacancies from healthcare providers all across the UK. All you need to do is tell us when, where and how often you'd like to work and our dedicated team can do the rest.
Medacs is a supplier across all NHS frameworks and receive first sight of agency-allocated shifts at more than 150 NHS Trusts, with both long and short-term bookings available, so you can stay in control. We also have plenty of private pharmacy jobs for you to explore; you'll have the luxury of picking roles that fit with your lifestyle and income requirements.
If you choose to work as a locum pharmacist, you'll be assigned a dedicated contact who can handle pay negotiations and offer ongoing advice and guidance. You may be able to also access daily payroll, putting your money in your hands as quickly as possible. Our free CPD courses will help you stay compliant with new drug developments and we have endless opportunities across the NHS and private sector to help you progress your career.