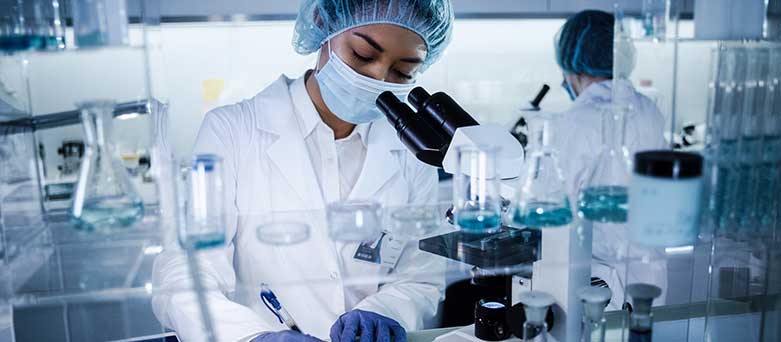 Biomedical Scientist Job Description
Biomedical scientists make up some of the medical profession's most highly skilled professionals. By carrying out a wide range of scientific tests, they help doctors carry out diagnoses of various kinds of ailments.
If you're looking for biomedical scientist jobs, Medacs has a wide range of permanent and temporary roles available. Whatever your needs and preferences, you'll be able to find the perfect medical role for you with Medacs.
Being a biomedical scientist
Many hospital departments rely on biomedical scientists to carry out specialist tests in order to help diagnose various conditions. Depending on what specific department you find yourself working in, you could be running tests to help diagnose infections, blood conditions, genetic conditions or other molecular concerns. For this reason, biomedical scientists need to be confident carrying out some essential medical responsibilities, such as:
Performing rigorous medical analysis
Processing patient samples
Working closely with doctors and other professionals to carry out effective diagnoses
Maintaining high standards throughout the lab
Continuously developing your own skills
Storing and processing patient data
Devising effective ways of carrying out medical analysis
Given the level of specialism that many biomedical scientists operate at and considering how varied a lot of hospital case work can be, it's important to have a positive attitude when it comes to approaching many of the above tasks. Some samples might require more work than others, or be markedly more urgent, so you'll need to be prepared for whatever comes.
Given the demand for biomedical skills, many scientists will operate in a range of different hospital departments, whilst others may choose to work in community trusts or private hospitals.
Qualifications for biomedical scientist roles
Biomedical scientists need to be registered members of the Health and Care Professions Council (HCPC) and there are three pathways towards achieving this. One common pathway is to study a HCPC-approved healthcare sciences undergraduate degree. This then allows individuals to specialise through the NHS Practitioner Training Programme (PTP).
You could also study an accredited biomedical sciences undergraduate degree by the Institute of Biomedical Science (IBMS) and approved by the HCPC. Others may also choose to get specialist training by gaining employment as a trainee biomedical scientist.
Key skills for biomedical scientist jobs
Due to the specialist nature of this role, it's important to have an excellent understanding of some essential medical principles. You'll need:
Excellent manual dexterity
Comprehensive laboratory skills and the ability to maintain high standards within the lab
Confidence when working under pressure
Ability to maintain high and rigorous standards of work in an often high-pressure environment
Ability to prioritise urgent tests first
Teamwork skills
Good communication
Capability to work alone
Having a good grasp of the above skills is important, but it is also equally important to have an analytical and curious mindset. As your findings can make a big contribution towards a patient's diagnosis, biomedical scientist jobs will often require you to pursue some findings beyond a first analysis, so a commitment to evolving research is also an asset.
Where can a career as a biomedical scientist take you?
In a wide and varied medical field, there are lots of different sub-fields that you can choose to prioritise your skills in. Most commonly, your specialism will be in infection sciences, blood sciences or cellular sciences. By working closely with the HCPC, you'll be able to continue developing your skills, which will form the foundation for your future career development. In order to progress to band 6 of the AfC pay scales, for example, you'll usually need an IBMS Specialist Diploma, whilst progressing to the tiers beyond this will require a postgraduate degree or Higher Specialist Diploma.
Beyond specialising in this way, there are also opportunities for trained biomedical scientists to pursue advanced scientific work, research, training and education. There are also many practising and non-practising roles open to you in the private sector.
What's next?
When you search and apply for a job with Medacs, you can rest assured that there is all the support you need to find the perfect role for you. Whether you're looking to work flexibly, temporarily or permanently in a particular location, you can find hundreds of new medical roles daily with Medacs.
As a preferred supplier of medical professions to the NHS, we'll give you access to a wide range of public sector roles before anyone else. And, when it comes to negotiating the right pay package to suit your needs, we'll be on hand to help you get the right deal. You'll also have access to free CPD development courses that put your career progression needs at the forefront of your working life.