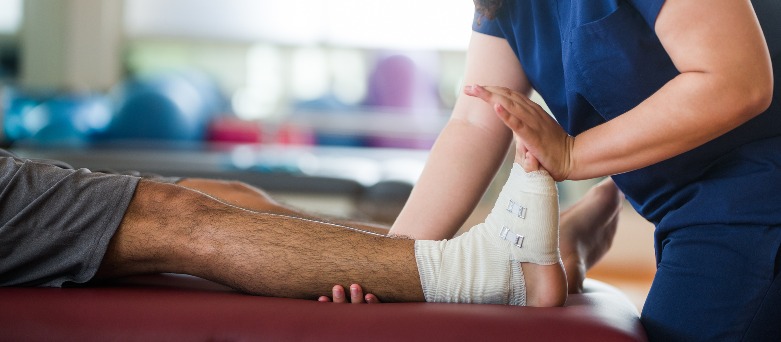 Podiatrist Job Description
Podiatrists are medical experts whose main efforts are directed at alleviating pain and diagnosing conditions in the lower limbs and feet of their patients. This is a varied field, so podiatrists could find themselves dealing with any number of different conditions daily.
If you're looking for your next podiatrist job, you can find temporary and permanent podiatrist roles with Medacs.
Being a podiatrist
Podiatrists are the go-to experts when it comes to lower limb pain and foot conditions. From working closely with patients experiencing circulation problems to athletes developing issues with their feet, podiatrists provide a vital service to patients who can often be in discomfort. You could find yourself addressing any of the following conditions:
Children experiencing pain when walking
Patients with diabetes whose limbs are at risk of amputation due to circulation problems
Athletes and performers whose feet have undergone stress and strain
Individuals with plantar fasciitis
Other foot-related pains and discomfort.
Because of the nature of their work, podiatrists can work very flexibly across a number of different working locations and departments. Particularly as a senior podiatrist, your expertise will be called on by physiotherapists, dietitians, general practitioners (GPs) and nurses.
Because demand for your knowledge is so widespread, you could choose to work in an NHS hospital, a community trust or private institution. If you would like to work flexibly across different locations, Medacs can help you do exactly that.
Podiatrist salaries
As an NHS podiatrist, you'll be earning a salary in accordance with the Agenda for Change (AfC) pay scales. As a more junior or entry-level podiatrist, your salary will be between £24,907 and £30,617, whilst as a team leader or advanced podiatrist your salary will increase to £44,503. As a consultant or specialist registrar, your salary will increase somewhat beyond this. Many salaries in the private sector can be a lot higher than within the NHS.
Qualifications for podiatrist jobs
To begin a career in podiatry, you'll need good GCSEs in order to study an undergraduate podiatry course. Upon completion of your undergraduate degree, most aspiring podiatrists continue their studies to postgraduate level with a master's degree in podiatry. There are also apprenticeship degrees in podiatry which will allow you to do much of your education on the job.
Once you have earned your qualifications, you'll then need to register with the Health and Care Professions Council (HCPC) in order to begin your practice.
Key skills for a podiatrist
As podiatrists are experts in a medical field, there are a number of essential skills that a podiatrist should have. Whilst academic qualifications are important, having many of the below is also important:
An interest in sciences such as biology, anatomy and chemistry
Excellent communication skills
Good dexterity
The ability to work independently, whilst also co-ordinating with other podiatrists and health experts
Empathy
Be able to make often-anxious patients comfortable and at ease
Problem-solving skills
Good IT skills.
Where can podiatry take you?
As a qualified podiatrist and a registered member of the HCPC, you'll be able to benefit from yearly career development courses designed to help build on your existing knowledge and learn new skills. You are also encouraged to join the College of Podiatrists in order to make the most of regular conferences and seminars.
There are also several different sub-fields in which you may choose to specialise. For instance, you could choose to pursue further educational development in:
Biomechanics
Forensic podiatry
Orthotic manufacture
Podiatric surgery
Rehabilitation
Wound care.
What's next for you career?
When you decide to find your next podiatry job with Medacs, you can be sure that you're finding your next role with a leading medical agency. We are the preferred supplier of locum medical professionals to the NHS, so you'll often be able to search and apply for jobs before anyone else.
You'll also be given plenty of support and continuous development to help you pursue the career opportunities you want. You'll have total flexibility on when and where you work, be safe in the knowledge that daily payrolls may get your income to you as soon as possible, and have dedicated support when it comes to your revalidation.