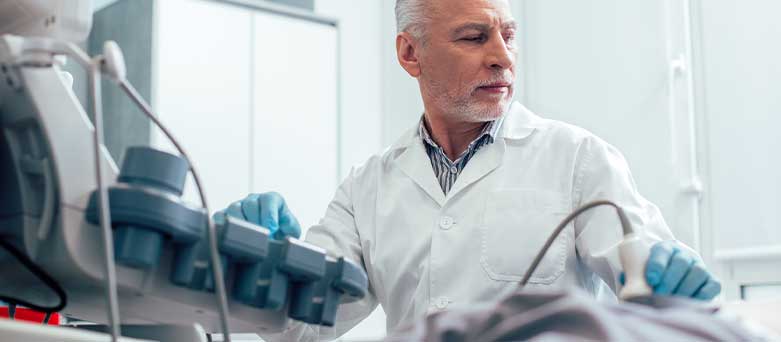 Sonographer Job Description
Sonographers use specialist and high-power equipment to find and diagnose medical conditions in patients. Extensive training is necessary for this role and places on courses are competitive, but in what can be a challenging environment, sonographers can play a big role in improving the quality of life for their patients.
If you're looking for your next medical role, Medacs has a wide range of temporary and permanent sonographer jobs, so you're sure to find your next job with us.
Being a sonographer
Sonographers use often highly specialist and very technical equipment daily. These can be anything from ultrasound scanners to detailed imaging and visualisation tools. As a result, before working closely with patients, you'll need to undergo some specialist training and education.
But, once you are qualified as a sonographer, you could find yourself doing any of the below:
Setting up, maintaining and using sonography and ultrasound equipment
Working closely with patients
Producing visualisations and detailed imagery from the scans you have performed
Writing reports
Helping to diagnose complex conditions
Training other healthcare professionals to use specialist equipment
Making referrals to other experts and departments.
As with many different healthcare professionals, you'll be working in often busy and difficult environments, so you'll need a cool head and be able to prioritise your workload whilst under pressure.
As a sonographer, your specialist skills will be needed in a wide range of different medical environments. You could work within an NHS hospital or practice, a community trust or perhaps a private institution.
Qualifications for sonographers
To begin a career in sonography, you'll need an undergraduate degree in a related subject: radiography, midwifery, nursing and health science would all be considered. You'll also need a postgraduate degree or diploma in medical or clinical ultrasound. The qualification will need to be recognised by the Consortium for the Accreditation of Sonographic Education (CASE), and you'll ideally have gained as much paid or voluntary work on a ward as possible.
You may also need to register with the General Medical Council (GMC) if you wish to work as a medical sonographer. But, as there are many different uses for sonographers, you won't need to register with the GMC if you plan to work in a non-medical setting.
Key skills for sonographer jobs
Many of the skills you'll need as a sonographer are largely the same as those that a doctor or nurse might need. However, as you'll be operating within your own medical field, there are some skills specific to being a sonographer that you'll need:
Excellent attention to detail
Sensitivity, empathy and understanding
An extensive knowledge of medicine and healthcare, both broad and specific to your field
Ability to work to tight deadlines and to prioritise your work whilst under pressure
Good verbal communication
A long attention span and good concentration
Ability to work well with others
Have good report-writing skills
Where can a career in sonography take you?
Sonography is a highly specialised and concentrated medical field, which means that you'll be able to work widely and specialise further. Sonographers are needed in almost all departments, so you may be able to specialise or focus your skills within the field of obstetrics, gynaecology, vascular or cancer services.
As a sonographer, it's quite likely that you'll be helping to pass on your skills and knowledge to new sonographers. You could choose to focus your career on teaching and education, or instead, to pursue a career in clinical research. As you grow in seniority and experience, you could also be well in line to take up managerial roles in the future. There is plenty of room for specialism within sonography, so you're sure to find a career pathway that suits you.
What's next?
Search and apply for a role with Medacs, and you'll be able to make the most of the benefits that working with a leading medical recruitment agency bring. We are the preferred supplier of locum professionals to the NHS, so whether you're looking to work solely within the NHS or across a number of different environments and practices, you'll have first look at exclusive jobs and total flexibility on how and where you work.
We'll also support you when it comes to revalidation and possibly with daily payrolls, so you have the peace of mind of knowing that your hard-earned money will be with you as soon as possible. Search and apply for your next sonography job today.