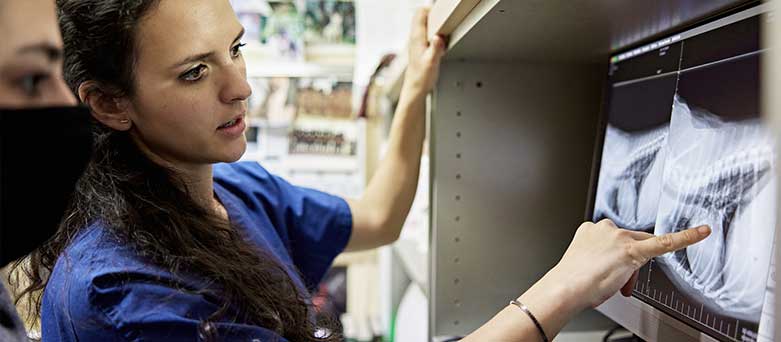 Radiographer Job Description
As a radiographer, you'll diagnose and help to get a better picture of injuries and illnesses, or help to treat them. No matter which route you choose, a fulfilling career awaits in this area of medicine.
At Medacs, there are lots of radiographer jobs up for grabs to suit every level of experience.
Being a radiographer
Radiography is an exciting area of healthcare that helps to investigate, diagnose and treat conditions that cannot be seen from the outside. These investigative and therapeutic treatments remove the need for invasive procedures, or complement them to make surgeries as minimally invasive as possible.
Radiography roles fall into one of two main categories:
Diagnostic radiotherapy – You'll use high-tech scanners to diagnose conditions, get more information about injuries and help surgeons prepare for procedures by offering them a detailed picture of a patient's tissue, organs or muscles. You'll conduct tests such as x-rays, MRIs, CT scans and barium x-rays, and could help surgeons by assisting with inserting wires to guide a procedure.
Therapeutic radiotherapy – You'll treat cancer of various parts of the body using high-tech radiotherapy equipment. You may carry out curative radiotherapy (aiming to cure the cancer completely), neo-adjuvant radiotherapy (aiming to make other treatments more effective) or palliative radiotherapy (aiming to relieve symptoms or slow disease growth).
Radiographers can work in a number of settings, including:
Hospitals
Outpatient clinics
Oncology centres
Community urgent care centres
Qualifications for radiographer jobs
As a diagnostic radiographer, you'll need to complete a degree (or master's, if you choose a different undergraduate route) in diagnostic radiography and register with the Health and Care Professions Council (HCPC). Alternatively, you could opt for an apprenticeship degree, which would allow you to achieve a degree-level qualification and earn as you study.
As a therapeutic radiographer, you'll need to complete a therapeutic radiography degree. Alternatively, you can take an accelerated two-year therapeutic radiography master's degree if you've already completed relevant undergraduate study.
Key skills for radiographer jobs
To thrive as a diagnostic radiographer, you'll need a number of skills and traits, including:
Being highly safety-conscious
Excellent observational skills
Strong data interpretation skills
Great communication
Ability to communicate medical information with both medical colleagues and patients
If you opt to become a therapeutic radiographer, you'll need additional skills, including:
Strong planning and organisational skills
Friendly and reassuring manner
Ability to offer emotional support to patients going through a difficult time
Where can a career as a radiographer take you?
If you become a diagnostic radiographer you can specialise in certain types of imaging, such as computerised tomography (CT) scans. With further training, you could also move into roles such as sonography or you could choose to specialise in a certain area, like stroke medicine, paediatrics or cancer imaging.
If the therapeutic radiography route is more appealing to you, you'll be able to choose an area of specialism and focus on treating specific groups of patients or those with certain types of cancers. This could include:
Paediatric cancer
Breast cancer
Brain tumours
Lung cancer
You could also work with new, emerging technologies, such as proton beam therapy, or help to conduct trials into new kinds of radiography treatments.
For both areas of radiography, it's possible to move into management, research or teaching roles. You may oversee an entire radiography clinic, help to pioneer new techniques that are even more effective at diagnosing and treating conditions, or educate the next generation. You can also join the Society of Radiographers to continue learning about this area of healthcare.
What's next?
With Medacs, it's simple to begin searching and applying for jobs that fit your career aspirations. We receive over 1,000 new roles every single day and we're a supplier across all NHS frameworks, meaning you'll have plenty of choice about your next career move. And we receive first sight of agency-allocated shifts at more than 150 NHS Trusts, allowing you to make long- and short-term bookings that fit with your lifestyle and location.