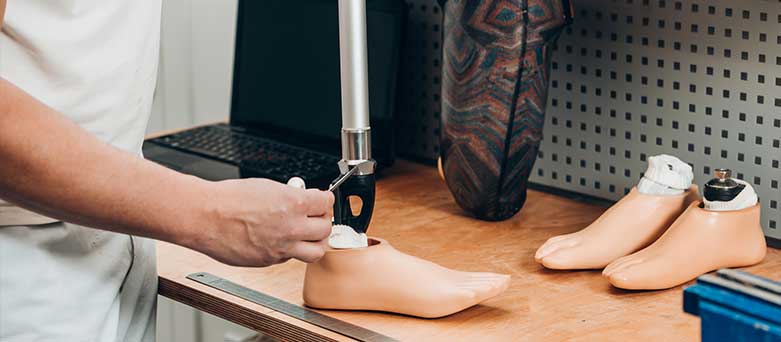 Prosthetist and Orthotist Job Description
Prosthetists and orthotists help patients with conditions affecting their mobility to regain the power of movement again. Whereas orthotists work closely with patients to solve muscular and nerve-related issues, prosthetists create and fit artificial limbs. Although both are concerned with helping patients regain the ability of true movement, they both approach this issue with different specialisms.
If you're looking for your next prosthetist and orthotics job, you can find a wide range of permanent and temporary medical roles with Medacs.
Being a prosthetist and orthotist
Prosthetists and orthotists both play important roles when it comes to helping people regain movement. Primarily, you'll be providing close care and support to patients with a variety of different conditions. Often, you'll be:
Assessing the movement of your patients
Evaluating the strengths of the various muscle groups related to mobility
Liaising with other medical professions and patients when it comes to proposing solutions
Helping to fit and produce the right mobility aids, such as artificial limbs
Carrying out regular reviews and devise adjustments where necessary
Fitting devices
Working collaboratively with other professions where and as needed
As your role primarily concerns providing care and support to patients, your working environment can be more varied than in other medical roles. Whilst many prosthetists and orthotists work within NHS environments such as hospitals, you may also choose to work within private institutions or community trusts.
Qualifications for prosthetists and orthotists
Given the specialist nature of these roles, you'll need an approved degree in a prosthetist or orthotics-related degree. These degrees will often last between three and four years and, by the time you graduate and begin practising, you'll need to be a registered member of the Health and Care Professions Council (HCPC).
Alternatively, there are also prosthetist and orthotics apprenticeships. While balancing some of the more academic aspects of this medical practice, you'll be able to earn a living whilst growing your experience, and this can be a good way to advance your career.
Key skills for prosthetists and orthotists
In these roles, you'll need to be capable of forming strong and constructive relationships with your patients. You'll need to listen to their concerns and issues, while being able to suggest future treatments and solutions. Some key skills for these roles include:
Being an active and empathetic communicator
Superb interpersonal skills with colleagues and patients alike
Sensitivity towards patients, their families and your own colleagues
Good manual dexterity
Organisation
An effective knowledge of scientific and medical best practices when it comes to fitting and devising new artificial limbs
Determination to succeed and a desire to find constructive long-term solutions
IT skills
Where can a career as a prosthetist or orthotist take you?
In what is a broad and varied medical field, there is a lot of room for specialism. Once you have acquired your qualifications and moved through some of the earliest stages of your career, you'll be able to specialise as a prosthetist or orthotist, as well as developing a sub-specialism such as having expertise in sports-related injuries, diabetes, neurological conditions or working with children.
You could also choose to pursue a senior career within the NHS. This could involve taking on greater managerial responsibility or becoming a consultant. You might instead pursue an academic career, where you'll be balancing your practising commitments with both research and educational responsibilities.
What's next?
Search and apply for a role with Medacs. If you're looking for the next job for you, search and apply for the many new and daily jobs that are posted with Medacs. We receive over 1,000 new medical roles every day, and when you find your next position with us, you also know that you count on dedicated and continued support.
Whether it's continued development courses (CPD), support with revalidation or assistance with negotiating the right pay package for you, Medacs is on hand to help you get what you need from your next medical job.