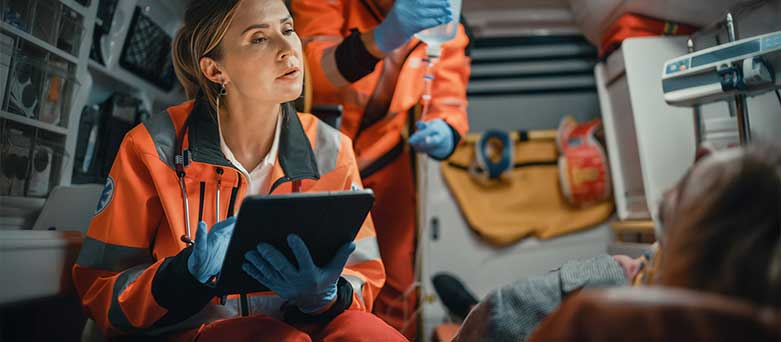 Paramedic Job Description
Being a paramedic is one of the most fast-paced and varied jobs in the medical profession. As the first responder for anyone who needs emergency care, you'll deal with all kinds of conditions and injuries. Your work will greatly improve the chances of recovery for many people.
Medacs can help you find a paramedic role that suits you. We have a wide range of opportunities available, including both temporary and permanent positions.
Being a paramedic
A paramedic's role is to save lives. You'll help patients in all manner of emergency and non-emergency situations. Your role is to work quickly to assess and stabilise their conditions, either to treat them directly or to help them reach the specialist care they need.
You could be required to:
Resuscitate patients
Establish an airway and stop or minimise haemorrhage

Use high-tech equipment such as defibrillators

Apply spinal and traction splints

Administer intravenous drips, drugs and oxygen
Paramedics work as part of a team. Although some paramedics do work on their own, you'll usually work closely with an emergency care assistant or technician, but you'll be the senior person who makes key decisions. You'll also liaise with other people from emergency services, including:
General Practitioners (GPs)
Doctors and nurses in A&E
Specialists in certain conditions like diabetes and Alzheimer's
Mental health teams
Firefighters
The police
Coast guards
Given the responsive nature of the role, paramedics work on shift patterns of a total of 37.5 hours a week for full-time members of staff. This will at times include late night and early mornings, and you'll have to work a share of bank holidays. You'll also need to travel around to reach patients, which could be via an ambulance, car, motorbike or bicycle.
Qualifications for paramedic jobs
You need a degree in an approved paramedic science subject. This could be a full-time course or an apprenticeship degree programme and will include both theoretical and practical studies.
To get onto a paramedic degree course, you'll typically need:
Two or three A levels, including a science

Five GCSEs (grades 9–4/A–C), including English language, maths and science.
Equivalent qualifications are also accepted.
Once you achieve your degree, you'll be qualified and able to apply for roles and register with the Health and Care Professions Council (HCPC).
Along with your educational qualifications, you'll need to have a full manual driving licence. You might also need an additional test to drive a larger vehicle.
Key skills for paramedic jobs
Paramedic jobs can be challenging. Not only do you need extensive knowledge to apply to each situation, but you need some key personal traits to succeed in this demanding role. These include:
Excellent communication skills

Ability to remain calm and make quick decisions

Strong organisational skills

Good at working as part of a team and individually

A caring approach

Good level of physical fitness and strength
Where can a career as a paramedic take you?
Although most paramedics work within the NHS, there are some other routes your role could take. For example, you could become a paramedic for the armed forces, police force or for private companies working overseas, like those in oil and gas and construction. Paramedics are in demand around the world, so you could use your skills to support services in other countries.
Another route for paramedics is to become more advanced through further qualifications or as part of a specialist team, such as air ambulances. Alternatively, you could transfer your skills to other medical roles such as nursing or to non-medical roles like NHS trust management and operations.
What's next?
Want to be part of a paramedic team? Take a look and apply for a paramedic job with Medacs. We get sent 1,000 new job opportunities across the NHS every day, meaning we can give you a daily update of the roles out there that you could apply for.
We can also help you progress your career beyond landing your next paramedic job. Through training courses and support for your HCPC membership, we can ensure you stay registered and keep moving towards your career goals. At Medacs, our job is to make the process of getting your paramedic job as simple as possible. This means taking care of everything from pay negotiations to wellbeing support.