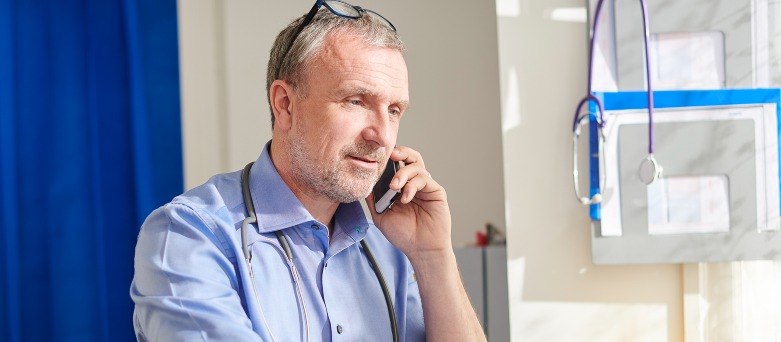 Accident and Emergency Doctor Job Description
Accident and emergency (A&E) doctors are the first point of contact for anyone arriving to A&E. On a daily basis, you'll be working closely with new arrivals to quickly evaluate and assess the extent of people's injuries, and what the best treatments will be. A&E doctors play an essential role in assessing new arrivals, making what you do a vitally important, and equally rewarding, part of front-line health services.
Medacs has a range of both temporary and permanent accident and emergency jobs, so you're sure to find the right role with us.
Being an accident and emergency doctor
As an accident and emergency doctor, it will be your responsibility to clinically assess all new arrivals to the accident and emergency department. Because you'll need to assess patients quickly, with often little information to go by, you'll need to have wide-ranging medical knowledge and be able to think on your feet. Although this can be challenging, this hugely rewarding job will put you on the front line of saving lives in emergencies. Commonly, you'll need to respond to accidents and emergencies as varied as:
Minor cuts
Traffic accidents
Strokes
Heart attacks
Self-harm
Alcohol and drug-related ailments
Being an accident and emergency doctor requires a specialist set of skills. Not only will you need to quickly understand a patient's problems, but you will also need to be able to accurately recommend the right treatments as well. In essence, these are problem solving skills. The majority of the patients arriving at your facility will require broadly straightforward treatments and can be dismissed on the day or night, or will be admitted to the care of a specialist ward team. A smaller proportion – around 20% – will need a follow-up appointment with a General Practitioner (GP) to ensure their well-being.
Qualifications for accident and emergency doctors
Getting qualified can be a rigorous and competitive process. First, you'll need a recognised degree in medicine by the General Medical Council (GMC). These courses are often around five years long. You will then need a two-year foundation programme of general training.
It can take anywhere from five to eight years to train in your chosen specialty after your initial qualifications. As you progress in seniority, you will be able to find an area of specialty that suits you. This will allow you to eventually train as a consultant and a specialist within a certain field of emergency medicine.
Key skills for accident and emergency jobs
Beyond formal qualifications, there are a number of soft skills that will help you throughout your career. Given the subjects you will often need to address, essential skills such as communication and empathy will be tested. In addition, you will need to be able to:
Communicate coherently and efficiently
Handle pressure and cope with stress
Show a dedicated and professional commitment to caring
Cope with complex information
Manage your time effectively
Remain calm in all circumstances
Co-ordinate and share duties with your team members
Accept responsibility for the outcomes of inpatients
Put in place the right treatments and solutions
As you become more experienced, you will be expected to display more leadership and team organisation. A&E units can become extremely busy and as a more experienced practitioner, many people will be looking to you to provide expertise and leadership.
Where can a career in accidents and emergencies take you?
Once you have completed your university qualifications and have completed a specialty programme, you will then be awarded a Certificate of Completion of Training (CCT). This certificate registers you with the GMC as a trained specialist and gives you the option to apply for consultant roles. Becoming a consultant allows the right practitioners to develop their managerial skills and to take on more senior roles within a medical environment.
As you progress, you may need to carry out further assessments, but as a consultant, you could find yourself working as a clinical lead, departmental director or a medical director within a trust. You may also decide to move into academic medicine and medical research, where you'll be able to combine teaching, research and treatment.
What's next for your career?
There are a wide range of accident and emergency jobs with Medacs, so whatever your ambitions and future plans, you're sure to find the right role for you.
When you find your next role with Medacs, you'll be matched to a role that fits your exact requirements, from shift patterns to contact and support. You'll have the flexibility to take control of your work-life schedule, and with a daily payroll, you will be paid as quickly as possible.
Search and apply for accident and emergency jobs with Medacs and be confident that you're on track to find the perfect role for you.
Moving to the UK
Every year, we locate over 2,000 international healthcare professionals into the UK, so if you're considering relocating to the UK, there is plenty of support on offer.
For more information, visit our Moving to the UK guide.