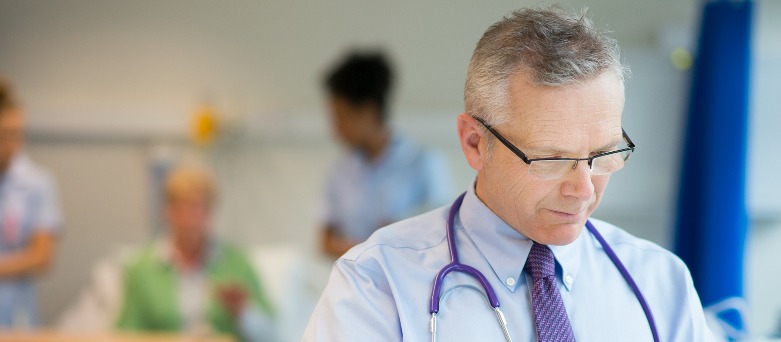 Medicine Doctor Job Description
The role of a medicine doctor is to quickly diagnose and recommend treatments for diseases and conditions. If you work in acute medicine, this will need to be done within 72 hours of arrival to a hospital. While many medicine doctors have areas of specialty, you'll also need to have lots of general knowledge, as hospitals – your primary area of operation – are fast-changing environments.
Medicine is a hugely diverse and varied medical field with plenty of scope for progression, training and specialism, so there's every reason to believe you can find the perfect medical role. Whether you choose to become a specialist in tropical medicine, cardiology, stroke medicine or respiratory medicine, there's plenty of scope for further growth and specialism throughout your career.
There is a wide range of temporary and permanent general medicine jobs with Medacs. In a medical field with so many specialist fields, you're sure to find some exciting jobs in Medicine with us.
Being a medicine doctor
Medicine doctors are responsible for the quick diagnosis, management and non-surgical treatment of various illnesses. With vast medical knowledge at your disposal, you could find yourself working in any department and with any patient, regardless of age, gender and background. As a medicine doctor, you can expect to:
Identify and diagnose conditions
Recommend the appropriate treatments
Refer patients for more specialist treatment
Co-ordinate closely with other doctors and emergency staff
Relay complex information clearly and concisely to patients
As a medicine doctor, it's important that you have a generalist mindset, and are prepared to work flexibly in a number of complex ways. You will often be the first point of contact for many new patients entering the hospital, so you will need to be able to adapt and treat new patients quickly, particularly if you are working in acute medicine. Essentially, your role will be that of a problem-solver: quickly identifying and resolving medical conditions with the right courses of action.
It is also becoming more common for lots of medical professionals to work closely with patients requiring additional mental health support. With more patients being admitted to health institutions in the UK especially due to mental health crises, it's quite likely that you will be needed to provide quick help to new patients needing immediate mental health support, before referring them on for more specialist support elsewhere.
Medicine doctors typically work within hospital departments, acting as a first point of contact for many new arrivals. But should you choose to work locum, you will have the flexibility to work across a number of different settings.
Qualifications for medical doctors
In order to start applying for general medicine jobs, you'll need several years of training and experience. First, you will need a medicine degree that is recognised by the General Medical Council (GMC). As part of your degree, you should look to get as much paid or voluntary experience on wards as you can, as this will help you continue your medical education. Next, you will need an additional two-year foundation programme which will see you earn your practicing licence.
After this, you will then be able to begin studying towards becoming a medical doctor. Specialisms can take between five and eight years, but after this period you will then be awarded your Certificate of Completion of Training (CCT), allowing you to continue developing into different fields of sub-specialty.
Key skills for medicine doctors
As a medical doctor, you will need to have a number of key skills at your disposal. You will be working in patient-facing, high-pressure environments, so you will need to be calm under pressure, have good people skills and be a capable communicator. You will also need to have:
Strong organisational skills
A good way with people
Clear and concise communication
A calm head under pressure
The ability to work in a high-stress environment
Strong teamworking and co-ordination skills
Resilience and stamina
Where medicine can take you
Once you've qualified as a medical practitioner, you will then be able to choose from any of the sub-fields of medicine that appeal to you. You'll need to train for another few years to get your Certificate of Completion of Training (CCT), but once you are a recognised specialist, you could then decide to move towards a consultancy role. These are some of the best-paid roles in the medical field and, as senior positions, open up the possibility of becoming a departmental manager or director.
While this is a common path for many, it is far from the only option. You could also choose to pursue a more academic career. These roles combine teaching and research responsibilities, on top of your existing medical work, but this is also an extremely rewarding pathway. You will be using all your experience to help train the next generation of medicine doctors.
What's next for your career?
At Medacs, we receive over 1,000 new jobs in medicine every day. We supply countless dedicated and experienced medical professionals to the NHS, so whatever your specialism, experience and ambition, there are plenty of opportunities for you.
And, when you search for jobs in medicine with us, you can be sure that you have the full support of a leading medical recruitment agency backing you every step of the way. You'll have a dedicated placement officer who will help you negotiate the best pay, flexibility on when and where you work, and specialist support to help you with revalidation. Find and apply for ideal general medicine jobs with Medacs today.
Moving to the UK
We have helped place thousands of international medical professionals across the NHS. We offer dedicated support and guidance at every step of the way, so consult the Moving to the UK page for more information on how Medacs can help you relocate to the UK.