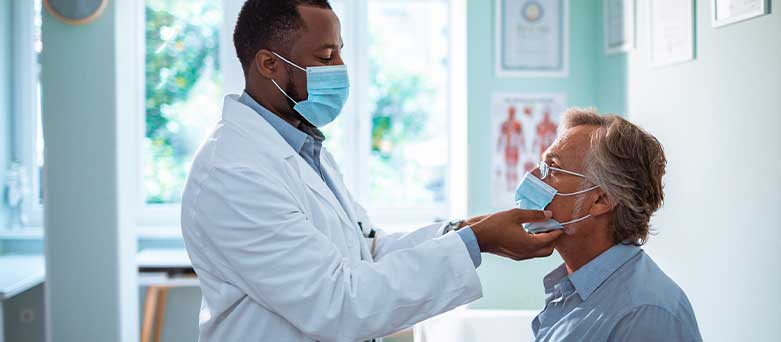 Oral and Maxillofacial Surgeon Job Description
Oral and maxillofacial surgery (OMS) doctors help to diagnose and treat people who have conditions that affect their mouth, jaw, face or neck, ranging from issues with teeth to entire face transplants.
At Medacs, you'll find a wide range of oral and maxillofacial surgeon jobs all over the UK.
Being an oral and maxillofacial surgeon
Oral and maxillofacial surgeons help a wide variety of patients, from those with cancer of any part of their head and neck, to people with medical and cosmetic dentistry concerns. It is a dual qualification field, meaning you'll need to be a dentist and medical graduate to work in this complex field. There are a large number of sub-specialties, meaning there's plenty of scope for oral and maxillofacial surgeons to operate in an area of genuine interest.
Your days will be spent performing surgical procedures on a wide range of patients, from those with potential carcinomas that require investigation to relatively simple procedures like removing impacted wisdom teeth. These procedures are often done under local anaesthetic, but it's not uncommon for general anaesthetic to be required for more extensive procedures.
Oral and maxillofacial doctors also work with patients to help manage facial pain, diseases and infections. You'll work with patients of every age, from newborn babies with cleft palates to adults and elderly people following accidents and disease.
Qualifications for oral and maxillofacial surgeon jobs
Training is both competitive and demanding in this field and it will take between eight to ten years to complete your dual undergraduate training. Following this, it will take a further seven to nine years to gain your Certificate of Completion of Training.
To qualify for jobs in this field, you'll need to obtain a degree in both medicine and dentistry. There are new three-year accelerated courses open to graduates in either field that allow them to gain their second undergraduate qualification (either medicine or dentistry) in less time. You'll need:
A BDS or BChD in dentistry

A degree in medicine

An MBBS (Bachelor of Medicine, Bachelor of Surgery)
Next, you'll complete core surgical training, which will take between one and two years. You'll need to pass examinations to gain membership of the Royal College of Surgeons (MRCS) or equivalent. Following this, you'll complete ST3-7 specialty training, allowing you to register on the GMC Specialist Register in Oral and Maxillofacial Surgery.
As it's highly competitive, it's advisable to complete other courses before applying for your specialty training, such as Advanced Trauma Life Support (ATLS), Basic Surgical Skills and Care of the Critically Ill Surgical Patient (CCrISP).
Key skills for oral and maxillofacial surgeon jobs
To succeed as an oral and maxillofacial surgeon, you'll need a number of skills to complement your qualifications. These include:
Manual dexterity

Great hand-eye coordination, vision and spatial awareness

Physical stamina to cope with hours of surgery

Excellent organisational skills

Great communication

Leadership and management abilities (particularly if you're interested in becoming a consultant)

Genuine interest in your field
Where can a career as a oral and maxillofacial surgeon take you?
There are lots of areas of specialism in the field of oral and maxillofacial surgery, including:
Head and neck cancer (removing tumours and reconstructing patients' head/neck)

Cleft lip and palate surgery

Facial skin surgery

Jaw surgery

Aesthetic facial surgery

Craniofacial deformity and orthognathic surgery (correcting jaw issues)

Salivary gland surgery

Oral medicine

Dentoalveolar surgery (teeth)

Trauma surgery
What's next for your career?
With Medacs, you can browse suitable surgery roles and apply for one that suits you in minutes. We receive more than 1,000 new jobs every day and we're a supplier across all NHS frameworks, giving you loads of options. And if you're interested in picking up extra shifts, we're given first sight of agency-allocated shifts at more than 150 NHS Trusts and private companies. You can book them on a short-term and long-term basis, allowing you to stay in control of your working life.
When you work with Medacs, you'll stay in complete control. You'll have one point of contact who can help you negotiate tricky matters like pay and offer trustworthy advice and guidance on every aspect of your career. We also run a daily payroll (where possible) to allow you to access your hard-earned income as quickly as possible.
If you need assistance with Revalidation, our specialist team can support you through the process and ensure you remain compliant. You'll also be able to access free CPD courses and either free or discounted appraisals, reducing costs and hassle in a number of ways.
Moving to the UK
It can be stressful to start your career in a new country, but Medacs can help you overcome some of the biggest obstacles. We work with more than 2,000 healthcare professionals every year, helping them find their dream careers here in the UK.
For more information, visit our Moving to the UK guide.