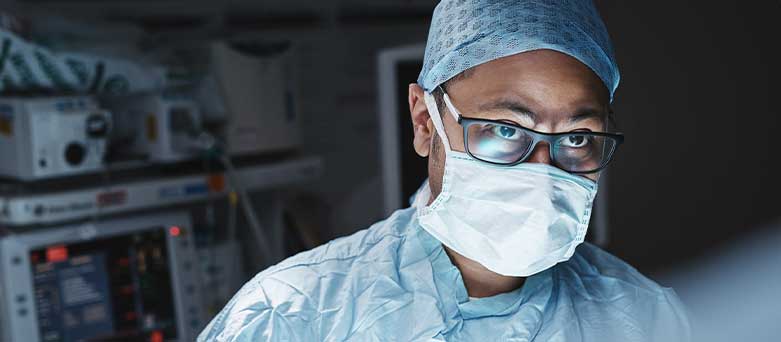 Surgeons are some of the most highly trained, highly specialised medical professionals. With many surgeons being experts in any number of different surgical fields, this is a complex and varied role with a lot of room for growth, development and specialisation.
When it comes to finding your next surgeon job, there are a number of permanent and temporary jobs with Medacs, so you're sure to find the ideal role for you.
Being a surgeon
Surgery is a highly specialised, demanding and competitive medical specialty to train in, but that also makes it one of the most rewarding health professions there is. Once you've progressed in your medical career, you'll be able to focus your training in one of many different areas of surgical expertise. You might choose, for example, to specialise in:
General surgery
Plastic surgery
Breast surgery
Cardiothoracic surgery
Neurosurgery
Paediatric surgery
Vascular surgery
Colorectal surgery
Within a hospital environment, surgeons will:
Carry out complex surgery and operations
Carry out ward rounds
Check in with outpatients and schedule further appointments if necessary
Complete administrative duties
Assist with teaching
Beyond everything else, surgeons are the go-to specialists when it comes to surgeries and operations. Within any sub-field of study, surgeons carry out complex operations that can take anywhere from a few minutes to several hours. Some surgeries can be lifesaving, so surgeons require decisiveness, clarity of thought, accuracy and excellent organisational skills.
Many surgeons work within multi-disciplinary teams, so despite the high-pressure environment, surgeons don't work alone. There are colleagues and networks of support that will help you work accurately and efficiently, so having good co-ordination and teamworking skills is also vitally important.
Qualifications for surgeons
Becoming a surgeon is a challenging and competitive career pathway to choose. In total, it can take up to 16 years to become a fully qualified surgeon, with entry to courses and training extremely competitive at every stage.
First, you will need to gain a General Medical Council (GMC) recognised undergraduate degree in a medical-related field. These degrees usually take five years to complete. You will then need to undergo a two-year foundation programme and a further two-year core surgical training programme before completing specialty training that can take anywhere from five to eight years.
Throughout this process, you will need to gain as much paid or voluntary experience as you possibly can, as entry and application processes for general surgery jobs can be very competitive.
Key skills for a surgeon
Having the right skills is very important when it comes to being a surgeon. For example, some good skills to have include:
Excellent hand-eye co-ordination and manual dexterity
Decision-making and problem-solving skills
Teamwork
The ability to work and organise under pressure
Attention to detail
Leadership through good relationships with your colleagues
The ability to build trust with colleagues and patients
Where does a career in surgery lead?
Once you have trained as a surgeon, you will be able to start specialising into different sub-fields of surgery. After you've completed your specialist training in any of the above sub-specialties, you will be awarded a Certificate of Completion of Training (CCT), allowing you to begin applying for consultancy-based roles. Many of these roles will be managerial, so as a senior surgeon you will be taking responsibility for the care of patients within your hospital.
There are alternative pathways though, and you may find yourself drawn more towards an academic career, combining research, teaching and practice all at the same time. In what is an already rewarding general surgery job, you will be using your dedicated expertise to help educate the next generation of potential surgeons.
What's next?
Whatever your area of specialty, and whatever your level of experience, find and apply for your next surgeon job with Medacs. We receive over 1,000 new jobs daily, so whether you're after job flexibility, dedicated support and contacts or revalidation support, you can be sure that when you find your next surgeon job with Medacs, you're finding your perfect role with a leading healthcare recruitment specialist.
Moving to the UK
If you're a healthcare professional living outside of the UK, Medacs is on-hand to help give you the right advice you need for moving to the UK. You can find more information about pursuing general surgery jobs in the UK on our Moving to the UK page.