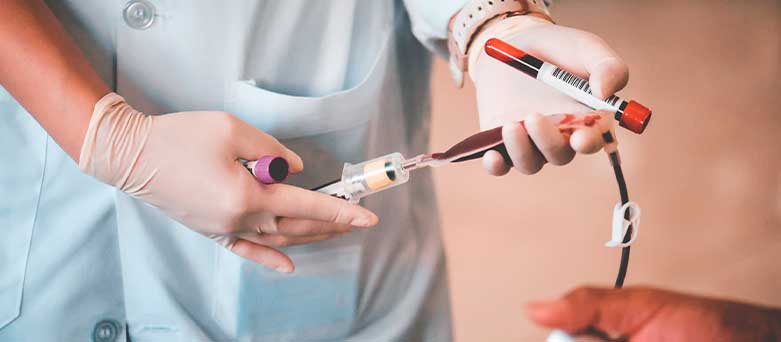 Haematology Job Description
Haematologists are responsible for looking after disorders that relate to blood and bone marrow, as well as supporting blood-related diagnostics. You'll help to diagnose, manage and potentially cure disorders of the blood and bone marrow, including leukaemia and haemophilia. There are lots of areas where you can develop special interests to form a career that suits your ambitions.
Medacs has many haematology job opportunities, including permanent and temporary roles, all across the UK and the world.
Being a haematology doctor
As a haematologist, you'll look after both inpatients and outpatients who are experiencing blood and bone marrow issues. You will advise and consult with other specialists and general practitioners (GPs) to form care plans, and will clinically interpret test results relating to blood and bone marrow.
Haematology jobs generally require you to work in both the lab and patient clinics, and you'll often see patients right through from their first consultation to diagnosis and treatment. It's likely you'll work with patients of all ages, unless you specialise in paediatric haematology (treatment of children), and will treat both harmless and life-limiting or terminal conditions.
Typical work carried out by a haematologist includes:
Formulating and delivering chemotherapy for blood and bone marrow cancers
Sampling and interpreting bone marrow
Offering clinical care to those with life-threatening or life-limiting diseases
Overseeing hematopoietic stem cell transplantation procedures
Qualifications for haematology jobs
To qualify for haematology jobs, you'll first need to complete a degree in medicine and a MBBS (Bachelor of Medicine, Bachelor of Science). Following this, you'll embark on a two-year foundation programme, which makes you eligible to register as a doctor with the General Medical Council (GMC). The next step is to complete a core training programme. There are three options at this stage:
Core Medical Training (CMT)
Acute Care Common Stem (ACCS) – acute medicine
Level One Paediatric Training – specialty training ST1-3
For the first two options, you'll need to pass exams that grant you membership of the Royal College of Physicians (MRCP). If you choose to specialise in paediatric haematology, you'll need to pass exams that lead to membership of the Royal College of Paediatric and Child Health (MRCPCH).
Subsequently, haematology trainees will then begin specialty training. You'll enter at ST3, regardless of which path you take, but will need to have 24 months experience in a specialist area (excluding time spent on your ACCS). If you'd like to secure a haematology consultant job, you will also need to show extra-curricular interest in the subject, including academic and research activities.
Key skills for a haematology doctor
Becoming a great haematologist isn't just about having the right qualifications. In order to succeed, you'll also need a number of traits and skills, including:
The ability to stay calm in medical emergencies
Strong organisational skills
Ability to lead a team and work well with other medical professionals
An empathetic nature, particularly when working with chronically or terminally ill patients
Ability to learn about new ideas to embrace disease treatment and management advances
Strong scientific knowledge that can be applied to patient care
To give yourself the best chance of succeeding in this competitive field, it's also desirable to show that you're genuinely interested in the subject. You could do this through extra training, attending conferences and carrying out academic research.
Where haematology can take you
There are lots of opportunities to develop a sub-specialty as a haematologist, as the field is varied and exciting. You could choose:
Haemato-oncology (treating leukaemia, lymphoma and multiple myeloma)
Blood disorders like haemostasis/thrombosis
Blood production and destruction disorders (like bone marrow failure, anaemia and autoimmune diseases)
Transfusion medicine
Paediatric (child and baby) haematology
What's next for your career?
Start your search for haematology jobs at Medacs and apply for roles that are right for you. And if you're looking for temporary or shift work, you'll remain in complete control. Tell us when, where and how often you'd like to work and access your money quickly using our daily payroll (subject to Trust regulations).
Medacs is a supplier across all NHS frameworks and we receive more than 1,000 new roles, including haematology jobs and haematology consultant jobs, every day. We also get first access to agency shifts at over 150 Trusts, so you'll be able to choose locations and times that work for you. If you ever have concerns or need help with matters like pay, you can discuss them with your dedicated consultant.
What's more, we can help you book free and discounted appraisal sessions and offer free courses that give you valuable continued professional development (CPD) points. No matter what your career goals are, you can reach them with Medacs.
Moving to the UK
Starting your career in a new country can come with a few obstacles. Medacs helps medical professionals from across the globe find haematology jobs in the UK and navigate the process of moving and settling in. Check out our Moving to the UK pages for more information.
Browse and apply for the latest haematology jobs