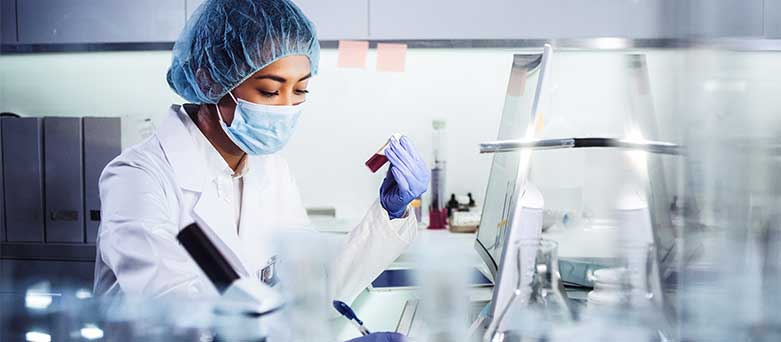 Microbiologist Job Description
As a microbiologist, you'll help to diagnose, treat and prevent the spread of infections within hospitals and the community. You'll play a key role in the wider initiative of clinical infection management.
You can find lots of microbiology jobs right here at Medacs. Explore jobs all over the UK that are right for your career goals and lifestyle.
Being a microbiology doctor
Microbiology is a sub-specialism of pathology that is officially referred to as medical microbiology and virology (MMV). You'll work with other medical professionals, such as general practitioners (GPs), acute care doctors and consultants to diagnose and treat bacterial and viral infections. Your days will mostly be spent in the lab, carrying out tests and investigations that can get to the root of a wide range of medical problems. However, you may work on-call in urgent care to help diagnose cases of sepsis and meningitis, for example.
You may be required to suggest the most appropriate investigations to carry out, perform the tests, or investigate using a microscope and then interpret potentially complex results. Microbiologists can also recommend appropriate courses of treatment and advise on infection prevention measures for highly contagious diseases like MRSA.
If you choose to work in medical virology, you'll help patients with conditions such as HIV and Hepatitis B and C, as well as work to prevent and treat highly infectious viruses like SARS and avian flu. This is best suited to those with a strong interest in research, as you'll need to always be up to date with the newest ways to tackle infections.
Qualifications for microbiologist doctor jobs
To become a microbiologist, you'll need to gain a degree in medicine and complete an MBBS (Bachelor of Medicine, Bachelor of Science) or international equivalent. From this point, you have two options. You can complete foundation training and core training either via the core medical training (CMT) or acute care common stem (ACCS) routes. Next, you'll complete a two-year laboratory and clinical training programme of combined infection training, covering topics like:
Medical microbiology and virology

Infection prevention and control

Tropical medicine
You'll also need to complete your Part 1 Fellowship of the Royal College of Pathology (FRCPath) examinations. Following this, the final part of your training is to complete ST3 Specialty training, which takes two years and allows you to complete Part 2 of your FRCPath.
As microbiology is a lab-based specialty that involves less patient care, it's also possible to apply for academic core training after you've gained your medical degree. You'll work towards achieving a PhD in microbiology, though this isn't a common route for those interested in working in healthcare settings.
Key skills for microbiologist doctor jobs
In addition to your qualifications, you'll need a number of skills to succeed in microbiology. They include:
Strong communication skills

Ability to work with a wide range of medical and non-medical colleagues

Persistence to find the cause or cure for a problem

Excellent organisational skills

Strong problem-solving and decision-making skills

Genuine scientific interest in microbiology
It's unlikely you'll work directly with patients for much of your working week, but it's still important to be able to communicate complex ideas simply and clearly to those outside of your medical field.
Where can a career in microbiology take you?
Once you have completed your Certificate of Completion of Training (CCT), you can work at consultant level. You can choose to take on extra responsibilities, such as teaching or management of clinical teams, to broaden the scope of your role. Lots of microbiologists also choose to pursue a career in research, as this is an ever-evolving field. Extensive research is required to overcome some of medicine's biggest problems, such as antibiotic resistance and infection control.
What's next for your career?
Explore and apply for microbiologist jobs right here at Medacs. We receive more than 1,000 new roles every single day across all NHS frameworks and a wide range of private roles too. You'll also get first sight of agency-allocated shifts at more than 150 NHS Trusts, with both short- and long-term bookings, allowing you to plan your work schedule around your life.
If you need assistance with negotiations around pay, our friendly and experienced team will help you navigate any tricky aspects. You'll also work with a dedicated contact who can offer loads of advice and guidance on a range of career matters. All you have to do is tell us when, where and how often you'd like to work, and we can find shift patterns that perfectly suit your lifestyle.
Medacs can also help with time-consuming matters like revalidation, as long as you work most of your shifts with us. You'll also have access to a wide range of CPD courses, allowing you to continue learning throughout your career. In addition, we can help you arrange free or discounted appraisals, cutting costs and hassle.
Moving to the UK
Finding a new role in a different country can be overwhelming, but Medacs can take the stress out of the process. We work with more than 2,000 international healthcare professionals every year to help them find work in the UK.
For more information, visit our Moving to the UK guide.