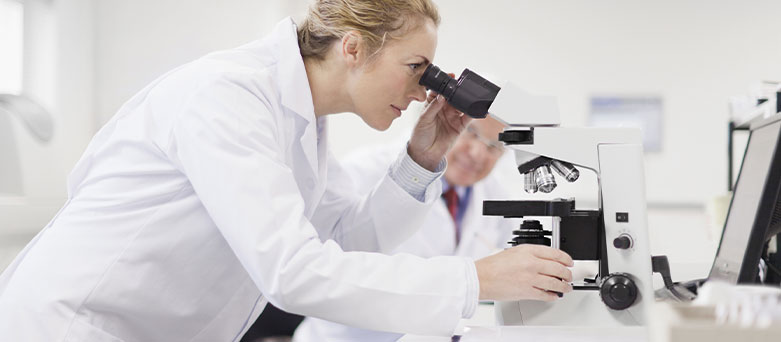 Pathologist Job Description
Pathologists help to investigate symptoms and diagnose diseases. Depending on your area of specialism, you could be responsible for investigating blood-related problems, cancer, viral and bacterial issues or studying metabolic diseases.
Medacs can help you find the ideal pathologist job for you. Read more below on what being a pathologist entails and how to apply for a job with Medacs.
Being a Pathologist
Pathology is a broad, complex field of medicine with one common goal: to investigate, diagnose and treat a wide range of diseases, as well as work out what causes them and, potentially, how they can be presented.
There are four main areas of pathology, which each have their own sub-specialties:
Chemical pathology

– You'll use biochemical lab tests to diagnose and manage diseases. Chemical pathologists work in the laboratory and in clinical settings, as they treat and meet with patients on wards and in outpatient clinics. You'll work closely with general practitioners (GPs), acute medicine doctors and endocrinologists, and will mainly work with adult patients.

Haematology

– Haematologists diagnose and manage disorders relating to blood and bone marrow. This role is varied and can include laboratory work like interpreting bone marrow samples, alongside clinical work such as delivering intra-thecal chemotherapy (via the spinal canal).

Histopathology

– You'll use samples of cells and tissues to diagnose and study diseases like cancer. Your findings will inform the course of treatment and help other clinicians like oncologists decide on the most effective way to tackle diseases. Your work will predominantly be lab-based with very limited patient contact, though you'll work alongside lots of other clinical staff.

Medical microbiology and virology (MMV

) – MMV specialists treat, diagnose and prevent (or limit) the spread of infectious diseases using complex lab investigations. These positions are typically lab-based and you'll work alongside other clinical professionals to tackle a range of conditions.
Qualifications for pathology jobs
All pathology jobs require the same initial education, which is a degree in medicine and an MBBS (Bachelor of Medicine, Bachelor of Surgery) or international equivalent. You'll then need to complete a two-year foundation programme, which will allow you to register with the General Medical Council (GMC) which will give you a taste of a range of specialties.
From here, you'll need to undertake different training depending on your chosen specialty to achieve your CCT (Certificate of Completion of Training). Here's a brief overview of the routes to qualification:
Chemical pathology

– You can choose between core medical training (CMT) or acute common care stem (ACCS), before progressing through ST3-7 specialty training.

Haematology

– You can go down the route of core medical training (CMT) or acute common care stem (ACCS) or through level one paediatric training, before progressing through ST3-7 specialty training.

Histopathology

– It is a straight run through from ST1 level, which will include passing examinations to gain Fellowship of the Royal College of Pathologists (FRCPath).

Medical microbiology and virology (MMV

) – Once again, you'll have the option of either core medical training (CMT) or acute common care stem (ACCS) before completing your ST3 training.
Key skills for pathology jobs
The skills you'll need will depend on which specialism you choose to pursue, but there is some overlap. Broadly, pathologists will need:
Strong communication skills to explain complex diagnostics

Scientific curiosity in their respective fields

Ability to work well in multidisciplinary teams

Strong time management and organisational skills
There are a few specific skills you'll need in each area too:
Chemical pathology

– Practical skills, self-motivation and precise attention to detail

Haematology

– Empathy towards patients and a willingness to embrace new ideas to improve disease management and treatment

Histopathology

– Extensive and wide-ranging knowledge of the field and wider clinical and surgical practice, good visual pattern recognition, great manual dexterity and hand–eye coordination. You'll also need strong diagnostic skills.

MMV

– Patience and persistence to tackle treatment-resistant disease
Where can a career in pathology take you?
Your career path will look very different depending on which of the four specialties you choose to pursue. Here's a taste of what each one can lead to:
Chemical pathology:

Metabolic medicine is the only sub-specialty, which covers clinical areas like nutrition, cardiovascular risk and inherited metabolic disease, to name just a few.

Haematology:

There are a number of sub-specialties in haematology, including haemato-oncology and transfusion medicine. You can find out more about the career opportunities in this field by checking out our haematology job profile.

Histopathology:

While this medical field doesn't have sub-specialties, there are three specialties you could choose between if you'd like to complete your CCT. They are forensic histopathology,

diagnostic neuropathology and paediatric and perinatal pathology.
MMV:

There aren't any sub-specialties within medical microbiology and virology, but there's plenty of scope for you to progress to managerial roles, such as clinical lead, or education roles, like training programme director.
What's next for your career?
Search for pathology jobs and apply for a role that fits your criteria right here at Medacs.
Moving to the UK
If you'd like to move to the UK to work as a pathologist, Medacs can help you navigate the biggest challenges. Each year, we help more than 2,000 healthcare professionals find roles in the UK.
For more information, visit our Moving to the UK guide.