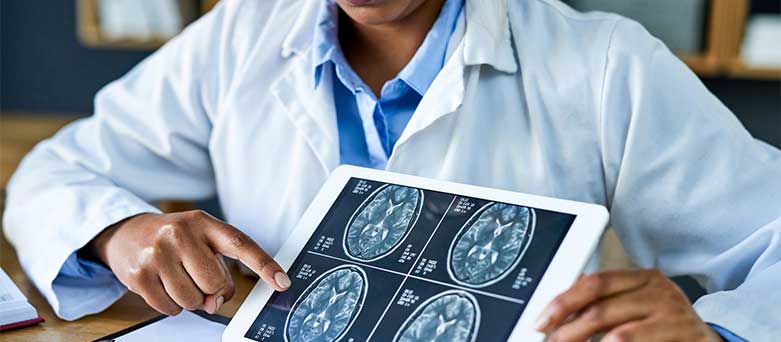 Neurologist Job Description
Neurologists help patients with a wide range of conditions and diseases that affect the central nervous system (the brain and spinal cord) and other nerves around the body (the peripheral nervous system) that are responsible for movement and sensation.
You can find a wide range of neurology jobs with Medacs. Explore roles with us all across the UK that align with your career goals.
Being a neurologist
As a neurologist, you'll work with patients who are experiencing a variety of neurological conditions. This could range from devastating strokes to Parkinson's disease, to dementia, to motor neuron disease, to less serious conditions such as headaches and benign brain tumours.
To get to the bottom of your patients' issues, you'll need to carry out investigations such as:
Nerve conduction tests

MRI and CT scans

Electroencephalography (EEG) to identify signs of epilepsy

Muscle or nerve biopsies
Every day is different for a neurologist, but it's likely you'll see a mixture of new and existing patients in outpatient clinics. You may also work with acutely unwell patients who have been admitted to hospital for conditions such as strokes. Many neurological conditions require long-term care, so you'll generally build strong relationships with your patients.
You'll work as part of a multidisciplinary team of healthcare professionals, including neurosurgeons (who can treat, cure or diagnose issues that you have diagnosed or suspect), nurses, acute medical staff, occupational therapists, speech therapists, physiotherapists and potentially palliative care professionals.
Qualifications for neurology jobs
In order to secure a job as a neurologist, you'll need to complete an extensive regime of training. First, you'll need to have a degree in medicine and complete a two-year foundation programme. You can choose two routes: CMT (core medical training) or ACCS (acute care common stem).
If you'd like to progress to specialty training, which will open up consultant and specialty doctor roles, you'll need to hold a full MRCP (Membership of the Royal College of Physicians).
Key skills for neurology jobs
Being a great neurologist is about more than your qualifications. There are lots of useful skills you'll need to excel in this area of medicine, including:
Strong problem-solving and observational skills

The ability to work as part of a team of healthcare professionals

Genuine interest in continuing your learning and finding solutions to difficult problems, such as diagnosing certain diseases

Strong organisation and time-keeping skills

Compassionate communication
Where can a career neurology take you?
Once you're a qualified neurologist, you can choose a range of sub-specialties including:
Movement disorders

Neuromuscular disorders

Pain management

Epilepsy

Headaches

Stroke and cerebrovascular medicine
Neurology is an incredibly broad field, as more than 5,000 neurological disorders and diseases have been identified to date and more are being researched and discovered each year. As such, lots of people with an interest in neurology choose to move into research and work towards a PhD. You could also move into a teaching or management position.
What's next for your career?
You can browse and apply for a wide range of both permanent and temporary neurology roles right here with Medacs. Every day, we receive around 1,000 new roles that span all NHS frameworks, and plenty of private healthcare companies too. We also get first sight of agency-allocated shifts across more than 150 Trusts, giving you maximum flexibility and choice when it comes to your work.
Medacs can help you with matters such as Revalidation and give you access to free and discounted appraisals, removing a big source of inconvenience and a financial burden. We also offer an extensive range of CPD courses, so you can continue learning throughout your career.
Don't consider yourself the best at negotiations? Our friendly and skilled team will help you negotiate pay and offer lots of helpful advice and guidance on a range of career matters. You'll also stay in control of your work/life balance throughout your time working with Medacs. All you need to do is tell us when, where and how often you'd like to work and we can find roles and shift patterns that suit your lifestyle and career goals.
Moving to the UK
Every year, we locate over 2,000 international healthcare professionals into the UK, so if you're considering relocating to the UK, there is plenty of support on offer.
For more information, visit our Moving to the UK guide.