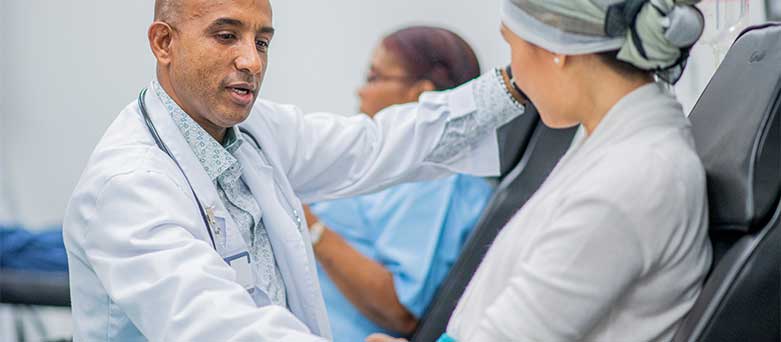 Oncology Doctor Job Description
Oncologists are responsible for coordinating and administering the treatment of cancer. They will work with a range of patients, from those with early-stage cancer to those with advanced and secondary cancer that cannot be cured. It is a challenging yet incredibly fulfilling area of medicine.
Whether you're looking for permanent or temporary oncology jobs, you'll find a wide range of opportunities right here at Medacs. We have a large variety of roles across the UK to suit your career goals.
Being an oncology doctor
Oncology doctors oversee the care of people undergoing treatment for cancer. You'll use chemotherapy and/or radiotherapy to treat or help manage cancers, as well as medication and other pioneering treatments such as immunotherapy. There are two main types of oncology doctors: clinical oncologists, who use radiotherapy and chemotherapy to treat cancers, and medical oncologists, who focus more on drug and hormone therapy for other cancers.
Oncologists work as part of multidisciplinary teams, which could include chemotherapy nurses, radiologists, surgeons and palliative care doctors, to give each patient the best possible treatment or quality of life. Whilst many patients' cancer can be cured, you'll work with a number of patients who are terminally ill, meaning you'll need natural compassion when speaking to them and their families.
You may work in a general hospital or be based in a specialist oncology hospital or clinic. Most oncologists are not required to work unsociable shifts, but some consultants will need to be on call to offer advice relating to post-chemotherapy issues, for example.
Qualifications for oncology doctor jobs
First, you'll need to obtain a degree in medicine and complete an MBBS (Bachelor of Medicine, Bachelor of Surgery) or an international equivalent. The next step is to complete a two-year foundation programme, which will allow you to register as a doctor with the General Medical Council (GMC).
Following this, you'll undertake two or three years of core training. You can complete internal medicine stage one to achieve full Membership of the Royal College of Physicians, or go down the acute care common stem (ACCS) route, which will take four years.
Finally, if you'd like to work towards becoming a consultant in the future, you'll need to continue specialty training, beginning at ST3, to achieve your CCT (certificate of completion of training) in clinical or medical oncology. However, this field is highly competitive, so it's also wise to demonstrate an extracurricular interest in oncology (through research work, for example) to boost your chances to advance your career.
Key skills for oncology doctor jobs
In addition to your medical qualifications, you'll need to possess lots of key skills to ensure you succeed:
An empathetic, compassionate nature that allows you to sensitively guide people through their cancer treatments

Emotional resilience to cope with the demands of breaking difficult news

Excellent communication skills

A genuine interest in cancer research, and the pathology and biology of different cancers

Strong team-working skills

An interest in new treatments for cancer and an active approach to researching and trialling them
Where oncology doctor jobs can take you
Once you have decided that oncology is the right field for you, there are lots of ways to move your career forwards. Clinical oncologists can develop what's known as 'site specialities', which mean they specialise in certain types of cancer. This is particularly the case if you'd like to become a consultant in the future. Common site specialties include:
Breast

Thyroid

Lung

Paediatric (cancers found in babies, children and teenagers)

Skin

Gynaecology

Head and neck

Colo-rectal (covering cancers such as bowel and colon)
As a medical oncologist, you could specialise in additional types of cancer, such as:
Leukaemia

Melanoma

Cancers of the lymphatic system
It's very common for oncologists to become involved in clinical research, as it's integral to the field to find more effective ways of treating cancer every year.
What's next for your career?
You can find and apply for the ideal oncology doctor role for you right here at Medacs. We receive over 1,000 jobs every day and we're a supplier across all NHS frameworks, giving you lots of choice about which roles you choose to explore. And if you're interested in picking up extra work, we offer first sight of agency shifts at more than 150 NHS trusts, with both long- and short-term bookings available.
Medacs can also assist with the process of revalidation, as we have a specialist revalidation team who can guide you through and answer all of your questions. No matter what the future holds for your career, you'll find plenty of opportunities to move into new roles and build your skills and experience right here.
You'll remain in control of the shifts you choose to pick up. Whether you need to fit work around your lifestyle and family commitments or you simply want to stay in control, Medacs puts you in the driving seat. All you have to do is tell us when, where and how often you'd like to work and we can handle the rest.
Moving to the UK
It can be daunting if you're thinking about moving to a new country and finding a career that's right for you. Medacs can help. We assist more than 2,000 international healthcare professionals every year with finding work in the UK.
For more information, visit our Moving to the UK guide.