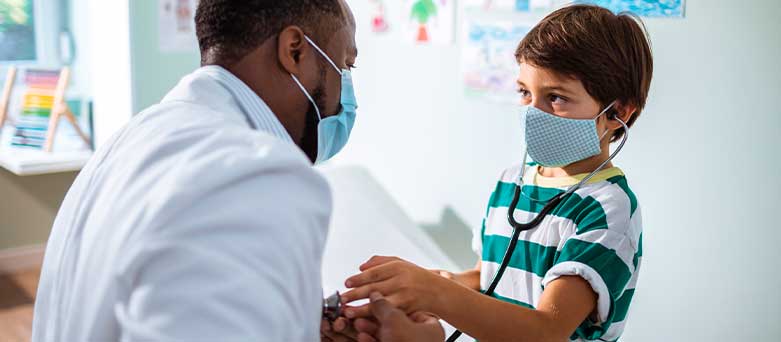 Paediatrician Job Description
Children's developing bodies need a different kind of care to adults. Paediatric doctors look after the health of the youngest members of society, whether they've had an accident or are seriously unwell. Paediatrics is a diverse and exciting field that offers lots of opportunities for you to build a rewarding career that fits your lifestyle.
You'll find both temporary and permanent paediatric jobs with Medacs. No matter what your specialty is, or where you'd like to work, you can explore lots of positions with us.
Being a paediatric doctor
Paediatric doctors help to treat and manage a wide range of health conditions that affect infants, children and teenagers, including conditions such as:
Cancer
Diabetes
Genetic diseases like cystic fibrosis
Viral and bacterial infections like meningitis
Intellectual and physical disabilities
Accidental injuries
Mental health problems
A paediatric doctor job description is wide and varied, and your day-to-day responsibilities will change based on your specialism, the healthcare setting you work in and your level of experience. You will work with children of every age, from babies to teenagers, to ensure they are as happy and healthy as possible. Depending on your specific role, your responsibilities include:
Outpatient consultations
Running clinics for long-term health conditions
Offering clinical advice to external agencies, including social services and education providers
Looking after inpatient children
Working round the clock in Accidents and Emergencies (A&E) to treat seriously unwell children
There are lots of settings where paediatric doctors can practise, and Medacs has opportunities to suit everyone within both the NHS and the private sector. You can choose to be a general paediatric doctor or an A&E paediatrician, meaning you are the first one to review unwell children and can refer them on to specialists, if appropriate. Alternatively, you could choose a specialism, such as endocrinology or genetic diseases, where you'll prescribe treatments, offer advice and carry out procedures to improve the health of children with lifelong conditions.
Paediatric doctor salaries
If you work within the NHS, paediatric jobs are paid in line with other specialty roles. During foundation training, you'll earn between £28,808 and £33,346. Average salaries increase once you begin your specialist training, rising to between £39,467 and £53,077.
Doctors who are qualified specialists can expect to earn between £45,124 to £77,519. Once you reach the highest level of paediatrics and become a consultant, your salary will be between £84,559 and £114,003. Your individual pay will be determined by factors such as whether you have management or education responsibilities and how much experience you have.
Qualifications for paediatric doctor roles
Before applying for paediatric jobs, you will need to obtain an undergraduate degree in medicine and achieve an MBBS (Bachelor of Medicine, Bachelor of Surgery) or equivalent qualification at medical school. Following this, you'll need to complete a two-year foundation programme, which will involve rotations in specialties like paediatrics.
Next, you'll begin your specialist training (ST1). To progress beyond ST3, you'll need to complete your Royal College of Paediatrics and Child Health (RCPCH) Foundation of Practice (FOP), while ST4 and above require full membership (MRCPCH).
Key skills for a paediatric doctor role
In addition to your essential qualifications, you'll also need a number of important skills and qualities to succeed in paediatric jobs. These include:
Excellent communication skills
Being able to work towards becoming a great diagnostician, as children and infants are not always able to describe their symptoms
Genuinely enjoying working with children and their families
Emotional resilience
Patience and sensitivity
A good sense of humour and bedside manner
Where can paediatric doctor roles take you?
As paediatrics training covers all areas of child health, there's lots of scope for you to become a specialist in particular areas you feel drawn to. These include:
Child mental health
Community child health
Neonatal medicine
Paediatric allergy, immunology and infectious diseases
Paediatric intensive care
Paediatric oncology
If you'd like to gain further qualifications in one of paediatrics' 17 subspecialties, you can continue your specialty training to level three, completing ST6-8 in your chosen area. You can apply to a National Grid training post or, if you are a specialty registrar (StR), you may be matched with opportunities by your local training programme directors (TPDs).
What's next for your career?
Discover your next paediatric doctor role in the UK through Medacs, where you can view and apply for jobs that suit your aspirations. We have positions to suit doctors at every stage of their career, whether you're just starting out or have decades of experience.
You'll remain in complete control of your work/life balance; simply tell us when, where and how often you'd like to work and your dedicated consultant will handle the rest. We also work across every NHS framework, allowing you to access a vast range of paediatric job opportunities.
Medacs can also help you arrange free or discounted appraisals and you'll be able to access our specialist Revalidation team who can guide you through the entire process. And if you'd like to try out career opportunities in a new area, we can help you identify places that will help you grow.
Moving to the UK
There's a lot to think about when moving to the UK for work. At Medacs, we can help paediatric doctors find jobs in the UK and help to make the process of moving simple. You can find out more details on our Moving to the UK page.