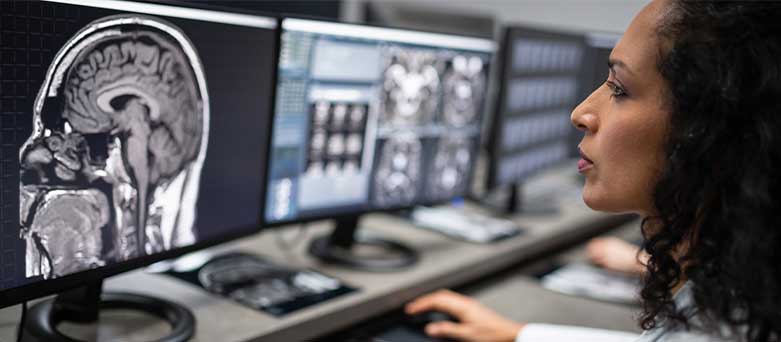 Radiologist Job Description
A key aspect of the radiologist job description is carrying out investigations to get to the bottom of health conditions and injuries. You'll potentially work across a huge variety of fields, from oncology to cardiology, to accidents and emergencies (A&E), and conduct a variety of tests and procedures. Some radiologists also help with operations procedures.
Medacs has many radiology jobs on offer, including permanent and temporary roles that are likely to suit your unique career aspirations and lifestyle.
Being a radiologist
A radiologist's role is crucial in diagnosing and investigating many medical problems. You'll use your knowledge to select the right investigative measures, whilst minimising radiation exposure, to get to the bottom of potentially puzzling issues. Imaging techniques used by radiologists include:
X-rays
Ultrasounds
CT (computed tomography) scanning
MRI (magnetic resonance imaging) scanning
Molecular imaging
PET (positron emission tomography) scans
A lot of your time will be spent writing imaging reports to help other clinicians understand what your scans indicate. Radiology plays a key role in diagnosing serious illnesses like cancer, as well as identifying the scope of injuries and soft tissue and bone issues that have occurred naturally. You'll conduct investigations on both a routine and emergency basis, meaning you'll help acutely unwell or injured patients and those with long-term or inherited conditions.
A key part of a radiology job description is the ability to work with clinicians and healthcare professionals from across a wide range of specialties. You will need to complete at least some on-call shifts, particularly if you're a senior radiologist or work in emergency medicine settings, and will likely have to work a rota of shifts.
Qualifications for radiology jobs
To become a radiologist, you'll need to complete a degree in medicine and an MBBS (Bachelor of Medicine, Bachelor of Surgery) or international equivalent. Following this, you will begin a two-year foundation training course, during which you can register with the General Medical Council (GMC) before entering your specialty (ST) training years.
You won't have to endure a highly selective application process at ST3, as you would in other specialty areas, though the field as a whole is generally competitive. To boost your chances of being accepted, it's wise to choose elective or taster modules and sessions during your training to show your commitment to radiology.
During your specialty training you'll also need to pass exams that lead to Fellowship of the Royal College of Radiologists (FRCR) and spend time as a specialist registrar to achieve your Certificate of Completion of Training (CCT).
Key skills for radiology jobs
In addition to your qualifications, you'll need a number of skills and traits to succeed as a radiologist. These include:
An analytical mind, great observational skills and an eye for detail
An interest in anatomy, physiology and pathology
Strong knowledge and understanding of general medicine
Dexterity (for certain jobs)
Strong general clinical knowledge
Great organisational skills
Excellent written and verbal communication skills
Where radiology can take you
The only radiology sub-specialty that's recognised by the GMC is interventional radiology, in which you'll assist surgeons and other clinicians during image-guided procedures, like needle biopsies and inserting balloons or stents into blocked arteries. However, there's plenty of scope for radiologists to develop a special area of interest in their work, which could include:
Neuroradiology
Oncology
Paediatric radiology
Radionuclide procedures (which use harmless amounts of radioactive chemicals for imaging)
Vascular
Breasts
Cardiac
Emergencies
What's next for your career?
There are lots of opportunities for radiologists here at Medacs that you could apply for. You'll remain in complete control when working with us, as you can decide when, where and how often you'd like to work.
We receive more than 1,000 jobs every day, so you'll have plenty of options whether you're looking for permanent, temporary or locum work. We're a supplier across all NHS frameworks and offer first sight of agency allocated shifts at more than 150 Trusts to give you maximum choice.
You'll have plenty of opportunities to continue developing yourself and your career too. Medacs offers free courses that deliver continued professional development (CPD) points and you can browse opportunities across multiple Trusts to build skills or move into new departments.
Moving to the UK
At can be difficult to know how to start your career in the UK, but Medacs can take the stress and confusion out of the process. We help radiologists from across the world find their ideal role in the UK; you can find lots of handy information on our Moving to the UK page.