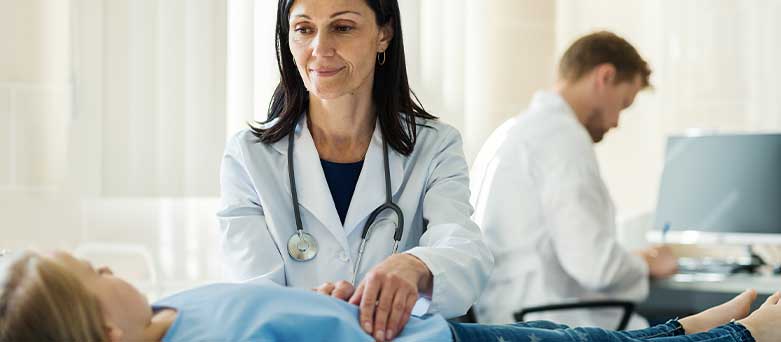 Gastroenterologist Job Description
Gastroenterologists help to treat, manage and investigate stomach, intestine and hepatological (liver, gallbladder, biliary tree and pancreas) diseases. You will help people get to the bottom of concerns and monitor patients with long-term conditions. There are various gastroenterology roles to choose from that suit your lifestyle and goals.
At Medacs, you'll find many permanent and temporary gastroenterologist jobs. You can search by location, specialism and more to find the ideal role for you.
Being a doctor in Gastroenterology
As a gastroenterologist, you'll be responsible for treating, investigating and managing conditions like:
Inflammatory bowel disease (IBD)
Jaundice
Liver disorders (autoimmune, viral and alcoholic)
Anaemia
Gastrointestinal bleeding
Irritable bowel syndrome (IBS)
Gastrointestinal cancers
One of the main responsibilities of a gastroenterologist is to carry out endoscopies. You may have additional training that allows you to complete more complex investigations, like small bowel endoscopy and colonoscopy. Gastroenterologists also conduct procedures like liver biopsies, insertion of IV feeding lines and helping with the planning and aftercare of a liver transplant. You will also help manage a range of conditions through outpatient clinics or following admission to hospital.
Most gastroenterologists are part of on call rotas, which mean they are standing by ready to perform procedures like emergency endoscopies. You're likely to work as part of an acute medical team in settings such as accidents and emergencies (A&E) and intensive care, but can also work with other clinicians like pathologists, oncologists and clinical research teams.
Qualifications for gastroenterologist jobs
To secure a gastroenterologist job, you'll need to complete a medical degree and a two-year foundation programme. Following this, you'll need to complete core training following either the core medical training (CMT) pathway, which takes two years, or the acute care common stem (ACCS), which takes three years.
If you'd like to develop a sub-specialism or want to become a consultant, you can continue to ST (specialty) training. Beyond ST3, you'll need to hold full Membership of the Royal College of Physicians (MRCP). Many specialty registrars and consultant gastroenterologists also train in general internal medicine (GIM). This can be a highly competitive field, so getting relevant experience as early as you can will give you the best chance of being accepted for training.
Key skills for a job in gastroenterology
In addition to your qualifications, there are certain skills that will help you go far in the field. These include:
Ability to make decisions under pressure
Good communication skills
Ability to manage patients' stress
Great organisational skills
Enjoyment of practical procedures
You'll also need stamina and the ability to handle large clinics of up to 24 patients per day. And if you'd like to work in an acute medicine team, you'll need to thrive in a fast-paced and often challenging environment.
Where gastroenterology can take you
The field of gastroenterology is varied and deals with a number of different parts of the body. As a gastroenterologist, you can choose from a large variety of sub-specialisms, including:
Hepatology (liver conditions)
Pancreaticobiliary diseases (conditions relating to the pancreas and biliary system)
Bowel disease
Tropical diseases
Gastrointestinal cancers
Transplantation
Clinical nutrition
Endoscopic investigation
You could also move into a managerial position, such as a clinical lead or medical director. Alternatively, there are opportunities within Trusts to help with education and training, via positions like Director of Medical Education or Training Programme Director.
What's next?
Discover permanent and temporary gastroenterologist jobs through Medacs where you can search and apply for roles that are right for you. With over 1,000 jobs added every day across all NHS frameworks and 150+ Trusts, you'll have plenty of options to choose from.
Finding your next role through Medacs also gives you access to lots of perks and opportunities, including free training courses and free or discounted appraisals that can be arranged on your behalf. You'll also retain complete control over your working life, as our consultants will get to know you and find roles that suit your needs.
Working shifts through Medacs also makes the revalidation process easier, as we'll ensure you have consistency and can seek support and expert guidance from our experienced Revalidation team.
Moving to the UK
Starting a job in a new country can be daunting. With the help of Medacs, you'll be able to find a role that's right for you and get settled in quickly if you're looking to relocate to the UK. For more advice on working in the UK, check out our Moving to the UK page.