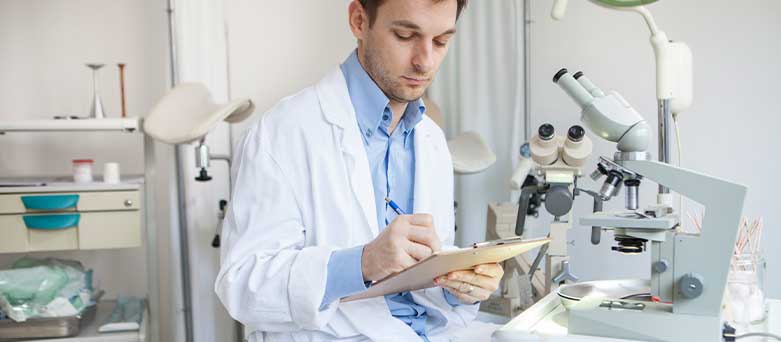 Urologist Job Description
As a urologist, you'll investigate, treat and help to manage conditions relating to the bladder, urethra and prostate, and male reproductive organs. You'll work with all kinds of patients, from those with prostate cancer to people experiencing temporary problems with incontinence.
If you're looking for a urologist role, you can find the ideal position for you with Medacs. There are roles all across the UK that can fit in with your lifestyle and career goals.
Being a urologist
Urology doctors deal with a variety of patients experiencing a range of urological problems. You'll carry out investigations and treatments using minimally invasive tools like endoscopes and cystoscopes. You may also advise patients on how to manage ongoing conditions and concerns, such as living with a urine stoma.
Urologists work with patients of all ages, from newborns to elderly patients. The majority of your days will be spent carrying out surgical procedures. You'll also speak to patients in outpatient clinics and complete ward rounds to help assess and treat those with acute or new urological issues. Urologists work as part of multidisciplinary teams of healthcare professionals, which could include:
Other surgeons

Theatre nurses

Anaesthetists

Radiographers

Physiotherapists
Qualifications for urologist jobs
Before you begin any specialist training, you'll need to complete a medical degree and an MBBS (Bachelor of Medicine, Bachelor of Surgery). Following this, you'll complete your core training (two years), which will allow you to register with the General Medical Council (GMC).
Next, you'll need to work through your core surgical (CT 1&2) and specialty training (ST3-7) to achieve your CCT (Certificate of Completion of Training). This will allow you to apply for consultant roles and access high-level management and teaching positions.
Key skills for urologist jobs
Your qualifications are just the start of what it takes to become a great urologist. You'll also need plenty of non-clinical skills to succeed, including:
Great hand–eye coordination and manual dexterity

Excellent vision and great spatial awareness

Strong organisational skills to help you manage a busy schedule

Strong communication skills

Ability to deal with people of all ages

Ability to lead and manage teams (particularly if you're interested in a consultant role)
Where can a career in urology take you?
Urology is an exciting and varied field with lots of sub-specialties, including:
Endourology – treating and managing conditions relating to prostate, bladder and kidney conditions

Urological oncology – treating cancer of the prostate, bladder, kidney and male genitals

Functional urology – treating and investigating conditions like incontinence, multiple sclerosis (MS) and urological complications of spinal injuries

Andrology – male fertility and sexual health

Reconstructive urology – treating damage to the urinary tract and helping to manage diseases
You can also progress to high-level roles such as consultant, clinical educator or medical director. Depending on your ambitions, you may be in charge of teaching the next generation at your workplace or overseeing the work of your department and colleagues.
What's next for your career as a urologist?
Discover and apply for urology roles to suit a wide range of goals with Medacs. We receive over 1,000 roles every day and we're a supplier across all NHS frameworks, giving you loads of choice. Medacs also offers first sight of agency-allocated shifts at more than 150 NHS trusts, which can be booked at short notice or in advance.
You can complete free courses to build up a solid bank of invaluable CPD (continuing professional development) points. And when it's time to complete your Revalidation, Medacs has a dedicated team of experienced professionals who can help you through the process. We can also arrange free or discounted appraisals, saving you both hassle and money.
Medacs has a huge variety of NHS and private healthcare company roles in the area of urology. We also have loads of opportunities for you to grow and develop new skills across multiple Trusts. All you need to do is tell us when, where and how often you'd like to work, and we can find permanent and temporary roles that feel like they were made for you.
Moving to the UK
Looking to find the ideal urology job right here in the UK? Medacs helps more than 2,000 international medical professionals discover the perfect role for them every year.
For more information, visit our Moving to the UK guide.