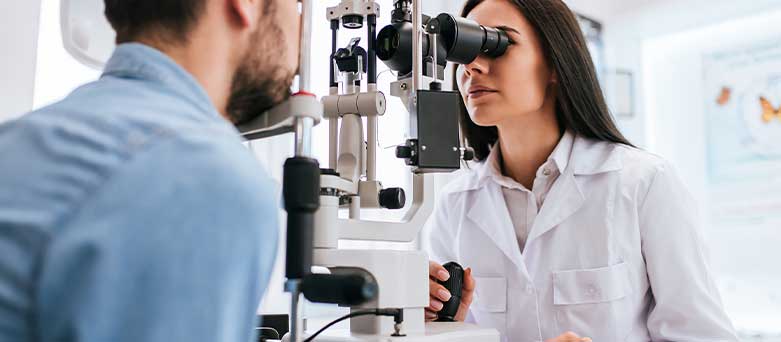 Ophthalmologist Job Description
Ophthalmologists are responsible for looking after the health of people's eyes. As an ophthalmologist, you'll treat and operate on people of all ages with both acute and long-term conditions, ranging from eye injuries to cataracts and macular degeneration. You'll help to preserve and potentially restore sight within roles that suit your career goals and personal commitments.
Medacs has lots of ophthalmologist jobs, including permanent and temporary positions, meaning you can find the perfect role for you.
Being an ophthalmologist
As an ophthalmologist, you'll deal with a wide range of health concerns relating to the eyes. It's a field that has seen rapid technological advancements in the last decade, meaning ophthalmologists are finding new and even more effective ways to treat and manage patients. You'll help patients with conditions such as:
Squints
Eye injuries, ranging from scratches to major injuries that lead to eye removal (enucleation)
Infectious diseases of the eye
Retinal issues such as oedema or a torn or detached retina
Glaucoma
Chronic diseases like diabetic retinopathy and age-related macular degeneration
Ophthalmology covers both medicine and surgery and you could perform lots of different types of procedures, including:
Cataract removal
Glaucoma surgery
Surgery for retinal disorders
Strabismus surgery to treat squints
Oculoplastic surgery (eye-related plastic surgery)
Corneal transplants
Orbital (eye socket) surgery
No two days in the life of an ophthalmologist are the same. You'll have a range of responsibilities, which may include running specialty, general or acute care clinics, carrying out treatments with lasers and injections or performing surgeries in a specialist eye theatre. You may be based in an eye hospital, outpatient clinic or in the community, depending on the specific role you choose.
Ophthalmologists typically work office hours (9-5, for example) as out-of-hour emergencies are less common than in other areas of medicine. You may need to be on call to deal with emergencies, as this is a highly specialist field, but it's less common for ophthalmologists to have to work night shifts or weekends.
Qualifications for ophthalmologist roles
If you'd like to become an ophthalmologist, you'll need to obtain a degree in medicine and an MBBS (Bachelor of Medicine, Bachelor of Science) or international equivalent. Following this, you'll complete a two-year foundation programme, where you'll gain experience of specialties including ophthalmology, and be able to register with the General Medical Council (GMC).
To become a fully qualified ophthalmologist, you'll need to complete ST1-ST7 (specialty) training. The Royal College of Ophthalmologists recruits for training positions in the field nationally. You'll need to show your dedication to the subject through research and academic achievements, as well as by attending relevant training and extra-curricular events, to secure a place.
Key skills for ophthalmologist jobs
In addition to your qualifications, you'll need to have a number of skills and qualities to succeed in ophthalmology. These include:
Excellent hand-eye co-ordination and vision to allow you to carry out highly precise work
Manual dexterity
Strong communication skills
Empathy and a good bedside manner, as eye problems can be very stressful for patients
Ability to work with and learn about constantly changing technologies
Where ophthalmology can take you
Lots of ophthalmologists go on to pursue sub-specialties in areas such as:
Paediatric ophthalmology (caring for children's eyes)
Certain conditions, such as glaucoma
Vitreo-retinal surgery
Primary care
Neuro-ophthalmology
Medical ophthalmologist
You can also choose to move into management roles, such as a clinical lead, or opt for teaching and training roles to help shape the next generation of ophthalmologists.
What's next for your career?
Find and apply for the ideal ophthalmologist job for you at Medacs. We add more than 1,000 new roles every day and we work across all NHS frameworks, meaning you'll have so many opportunities to choose from. We also work with 150+ NHS Trusts so you can be specific about location too.
Whether you're looking for a permanent or temporary ophthalmology job, you'll remain in control and our experienced team are on hand to help with tricky subjects such as pay.
Want to continue growing and developing as a clinician? Medacs' free continued professional development (CPD) courses are free to anyone registered with us. We'll also help with matters such as revalidation and booking free and discounted appraisals.
Moving to the UK
Starting your career in a new country can be stressful, but we're here to help. Medacs helps ophthalmologists from across the world find jobs in the UK and you can find more guidance on our Moving to the UK page.